November is Lung Cancer Awareness Month, a time to educate the public about the disease and share stories of lung cancer patients, survivors, and their families. This Lung Cancer Awareness Month might look and feel a little different than in the past, but we know, no matter the circumstances, the lung cancer community remains resilient and passionate about creating better outcomes for those affected by lung cancer.
LUNGevity is spreading the word this Lung Cancer Awareness Month, and we hope you will join us to make a difference! There are plenty of ways to participate this month from home. Check out some ideas below on how YOU can get involved.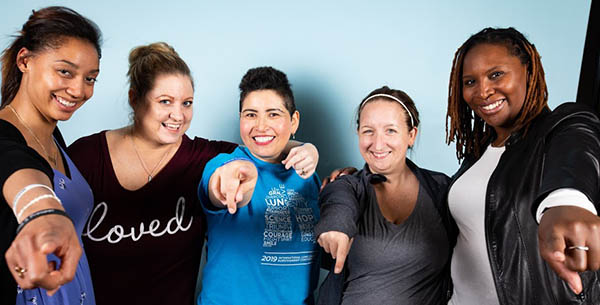 Join the LUNGevity Action Network
You can take real steps toward improving lives and outcomes for people with lung cancer by joining the LUNGevity Action Network. Through the Action Network, you'll quickly become an effective advocate with our simple and accessible tools. You can help raise public awareness by sharing your story, posting on social media, completing surveys, and more. You can also learn about important issues, sign petitions, comment on regulations, and write your legislators about what matters to you. There's something for everyone on the LUNGevity Action Network.

Stay Up-To-Date
Arm yourself with the latest information about lung cancer research and treatment.  You'll be prepared whenever the opportunity arises to share facts, compelling stories, and ways to make a difference. Learn more about lung cancer by checking out Lung Cancer 101. Get the facts by learning key lung cancer statistics. Sign up to get periodic emails from LUNGevity with the latest news delivered straight to your inbox. Already a subscriber? You can forward our emails to friends or family members who could benefit from being in the know about lung cancer.

Employ the Power of Social Media
Do you follow LUNGevity on social media? LUNGevity posts regularly to keep our followers in the know about what's happening at the Foundation and advancements for people living with lung cancer. You'll find blogs, videos, inspiration posts, and trending lung cancer news on our social media accounts. Follow us and join in the conversation by liking, commenting, and sharing our posts to help spread the message.
Want to engage your social network in the conversation? LUNGevity has pre-written posts and graphics that you can share on your own feed to help your community learn the facts about lung cancer. Download our posts and share today!

Read All About It
LUNGevity's popular blogs offer the latest advancements in research and treatment, tips for living well with lung cancer, and inspiring, empowering stories from the lung cancer community.  Be sure to share your favorite posts with friends, family, or your online communities. Find our blogs at lungevity.org/blog.
Are you interested in sharing your own story? Whether you or your loved one are navigating a lung cancer diagnosis or if you lost someone to lung cancer, sharing your lung cancer journey can provide hope and inspiration to help people struggling with similar issues. You may also help others who haven't been personally affected by lung cancer realize that anyone can get lung cancer and the disease needs to be a national health priority. Check out some of our story prompts and submit your story here.
Want to nominate someone else to be recognized for their lung cancer experience? You can do that too, through LUNGevity Spotlight.

Give Support
Support and understanding from someone who knows what you are facing can be essential to navigating a lung cancer diagnosis. LifeLine Support Partners are volunteer mentors who offer encouragement, advice, experience, and hope to those newly diagnosed and anyone needing additional support through a one-on-one personal connection by email or telephone. Give support to someone who needs it by becoming a LifeLine mentor!

Find Connection
Whether you are new to your diagnosis or have been navigating the disease for many years, you can find encouragement this Lung Cancer Awareness Month by connecting with others who have been affected by lung cancer.
LUNGevity hosts weekly Virtual Meetups for patients, survivors, and caregivers to virtually connect face-to-face with others across the country. Join us for conversations about shared experiences, discussions about pressing topics in the community, and a new network of support.
LUNGevity offers a variety of online communities, from private Facebook groups to an online message board, that provide support, information, and friends by peers affected by lung cancer.
There are so many ways to connect with others. Find one that works for you!

Raise Vital Funds
There are infinite ways to raise funds for LUNGevity to support lung cancer research, education, and support programs. While we can't come together in person this year to walk or run as a community on behalf of lung cancer, there are still many ways you can support our work. Find out some ways to fundraise from home in our blog post.
Never underestimate the power of one person to make a difference. Whether you are spreading awareness about lung cancer in your community and online, raising invaluable funds for lung cancer research and programs, or connecting with someone who needs your support and encouragement, you have an important role this Lung Cancer Awareness Month. Thank you for joining us in this fight against lung cancer.
Other Resources: