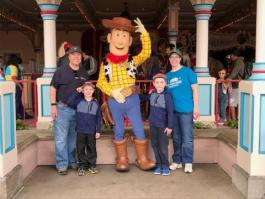 Joy Long is committed to the fight against lung cancer and caring for her family.  She is married to her husband of 11 years, Randy, and they have two sons, ages 7 and 9.  Randy was diagnosed with non-small cell adenocarcinoma lung cancer with the BRAF mutation in July 2017.  Joy graduated from Florida State University with a Bachelors in History and from Georgia Tech with a Master's in International Affairs.  She worked for Delta Air Lines and Delta Community Credit Union in various analytical roles for 12 years before staying at home to raise children and homeschool them.  She and Randy are grateful to God for His presence in their lives and for family, friends, and LUNGevity, who have all supported them in this journey.
Since your loved one's diagnosis, what support/resources have been most useful to you?
I think the most important support we have had during this journey is being surrounded by friends and family who have rallied around us with prayer, encouraging notes, meals, offers of childcare, etc.  It would have been so much harder without their immense support and love. 
Now that we have discovered LUNGevity during the past year, it has become our other go-to source for resources / research.  Being able to join weekly Zoom calls with other survivors this summer after COVID-19 caused ILCSC to move to a virtual format has been such an encouragement and solid base of support.  We were able to learn about stereotactic radiation as a possible treatment and go ahead and get it done, which will hopefully lengthen the duration of treatment for targeted therapy that Randy takes.  Also, due to the pandemic, it has been a relief to walk with others going through the same isolation / level of cautiousness, especially as friends or family may no longer be as diligent. 
 
What support/resources do you wish would have been available when you first became a caregiver?
I wish we had known about LUNGevity sooner!  Trying to weed through the research and learn more about lung cancer online was depressing and difficult to understand the details.  When Randy first started chemo, we weren't even given an introductory class to chemo or any materials about it, so we knew nothing of what to expect and had to learn things on the fly – how to manage side effects, interpreting scans, navigating medical bills and copay cards, helping young children understand, etc.  It would have been so nice to have Facebook groups, the online forum or weekly Zoom calls to go and ask questions like we have now.  We ended up having to change doctors mid-course because the first doctor was not paying enough attention to Randy's kidney function.  Having a resource to consult with when making that shift would have been so helpful.  We have learned that you really must be an advocate for your own health and that of your loved ones.  LUNGevity makes the process easier as it offers a wealth of information and there are so many to connect with who are walking through the same journey.
 
When someone asks you about your experience with lung cancer, what do you want to tell them?
When Randy was first diagnosed, we knew nothing about lung cancer and, like so many, had previously just assumed that it was a disease only smokers got.  Since he was a non-smoker, it wasn't anywhere on our radar screen. Now we know that anyone who has lungs can get lung cancer. 
I remember making the big mistake of researching online to find out more about the disease, and it was so scary and depressing to see the survivor percentages.  I had to remind myself that God is in control and that this diagnosis was not a surprise to Him and that He was going to be with us through whatever the future held.  There have been so many instances we could point to where we see God's miraculous hand – in the diagnosis itself since my husband had no symptoms, getting insurance approval for Keytruda before we even knew genetic mutation info, surviving the initial chemo including toxicity to the kidneys, a niece who was able to alert us to declining kidney numbers when our previous doctor was not paying enough attention, leading us to another doctor/facility, and on and on. 
Now, more than 3 years later, there are plenty of days where we kind of temporarily "forget" that Randy has this disease.  That isn't said to minimize any of what he is going through but rather that compared to some of the times during treatment, we are in a really good season now where even though he still has cancer, he can chase our young sons up the stairs at night or play tackle with them.  He has still been able to work full-time and spend time with us without being completely taxed out. 
It's important to take each day at a time.  There have been so many advances in lung cancer research and treatment options in the last several years that it gives us hope that if his current treatment regimen stops working, there will be other options for us to consider.  Also, for us, having family and friends praying for us and checking in us have been a tremendous support.
 
If you could give any advice or words of wisdom to a new caregiver, what would it be?
I think it is important to remain flexible and take one day at a time.  With the initial diagnosis, it was hard to plan anything in advance because we had continual appointments.  It was a challenge to have anything else on the calendar as I had to keep shifting everything around. 
If you have young children like we do, it helped me to have one person who consistently helped watch them so I could take my husband to all of his appointments.  It was hard enough on them to see their dad sick, but having a consistent caregiver gave them more stability and routine in the midst of uncertain times.  We were just beginning to homeschool them and it was nice to continue to have flexibility in our schedule and not have to worry about school schedules. 
It is also really important to take time to care for yourself too.  I was so focused on making sure I kept up with appointments, medicine, communication, etc. for him that I didn't take care of myself with diet, exercise, and mental breaks.  It is hard to take the time to fit those in but it will allow you to feel better and to be a better caregiver. 
 
What gives you hope?
My hope comes from God.  A friend of mine going through a similar journey to ours posted an update one day that read: "And if not, God is still good."  That statement has resonated with me - we are not promised a life without pain or difficulty but God does promise that He will walk with us through each day.  We know that He is still good despite our circumstances and because of Jesus we have the promise of heaven regardless of what we experience in this life.  It has been during the darkest times that my husband and I have felt His peace the most in our lives.  When I get discouraged, I find that recalling Scripture, prayer, and remembering to be grateful for the blessings He has given us really change my attitude.
My other source of hope is how many advances in lung cancer treatment have come out in just the last 5-10 years.  When Randy was diagnosed more than 3 years ago, we found out that he has one of the rarer mutations, BRAF.  However, just a few weeks prior to his diagnosis, the FDA approved a targeted therapy treatment combination for BRAF to be used for lung cancer.  When we attended ILCSC this year and listened to the keynote speaker and all the numerous sessions, we were amazed at how much the treatment landscape has changed in such a short period of time.  It feels like there is a tremendous amount of momentum behind lung cancer research.
Don't navigate lung cancer caregiving alone. Check out our Caregiver Resource Center for tips, tools, and support.
Share your caregiving perspective! In September 2020, LUNGevity launched Project PEER with the overarching goal to understand the lung cancer patient experience, irrespective of diagnosis (stage/history), outside of the clinical trial setting. In addition to this, the survey is also designed to learn about your experience as a caregiver as well as learning about your person's lung cancer diagnosis and treatment trajectory. We at LUNGevity want to hear your voice! Through research like this, we can advocate for policy and funding changes to help support those providing critical care to their person with lung cancer. We invite you to share your perspective by participating in Project PEER.  Learn more.
---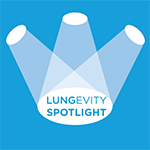 LUNGevity Spotlight is a way to highlight people living with lung cancer, caregivers, volunteers, and fundraisers who are making a positive impact in the LUNGevity community. We hope that their stories will inspire and encourage many more to get involved.
If you know someone in the LUNGevity community whom you'd like us to Spotlight, please nominate them here.