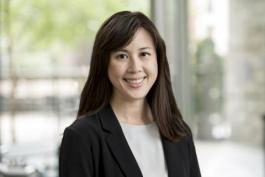 Small cell lung cancer (SCLC) accounts for about 15% of all lung cancers, and is found most often in people with a history of tobacco exposure. SCLC is an aggressive disease with cancer cells that grow and divide rapidly. Because chemotherapy targets fast-growing cells, patients with SCLC often have good results with initial chemotherapy treatment. However, it is common for patients to develop chemotherapy resistance and then have their cancer progress unchecked.
W. Victoria Lai, MD, a medical oncologist at Memorial Sloan Kettering Cancer Center, wants to change this pattern for SCLC patients. "My goal is to find ways to reverse chemotherapy resistance in small cell lung cancer. I hope it can become a chronic illness, so that SCLC patients can live longer with a higher quality of life," says Dr. Lai. 
Her research approach builds upon previous studies from Dr. Charles Rudin's laboratory using mouse models to study DNA, RNA, and protein levels in SCLC tumors. The researchers discovered that a protein, called SLFN11, was reduced in SCLC tumors that had become resistant to chemotherapy. In healthy cells, SLFN11 plays an important role in controlling how the DNA repairs itself. When SLFN11 is reduced in SCLC cells, there is more efficient repair of DNA damage, which stabilizes the DNA.  Tumor cell DNA that is more stable can grow resistant to treatment.
The researchers homed in on EZH2, a key protein involved in reducing the amount of SLFN11, in the drug-resistant tumor cells. Their laboratory work showed that adding an EZH2 inhibitor, an approach already being tested in the treatment of certain lymphomas and leukemias, caused the SCLC cells to regain regular expression of SLFN11 and become re-sensitized to chemotherapy.
As a clinical translational investigator in Dr. Charles Rudin's laboratory, Dr. Lai identifies promising ideas in the laboratory and develops them to become part of patient care.
"I was very interested in trying an EZH2 blocking-drug in SCLC patients as a way to re-sensitize them to chemotherapy," notes Dr. Lai. "That required us to set up a small phase 1 clinical trial."
In 2019, Dr. Lai was awarded a Career Development Award from LUNGevity Foundation to conduct a phase 1/2 clinical trial testing EZH2 inhibitors in combination with chemotherapy in SCLC patients.
"I was so surprised and grateful when I found out that I received the LUNGevity grant. The previous awardees are researchers I respect and admire, so I felt very honored to be in their company," explains Dr. Lai.
Dr. Lai and her colleagues have already completed the phase 1 clinical trial to demonstrate patient safety and to identify the optimal dosage of the EZH2 inhibitor in SCLC patients. As a part of the clinical trial, Dr. Lai's team also collected and analyzed patient samples to identify biomarkers to help target the treatment to patients who are most likely to benefit.
While the researchers continue analyzing the data and processing the samples from the phase 1 trial, they have also started a larger phase 2 clinical trial to focus on studying the anti-tumor efficacy of the EZH2 inhibitor in combination with chemotherapy.  
"We aim to finish the clinical trial over the next 1-2 years. I am excited to eventually share the clinical trial results, and I am optimistic that the study will help us learn more about the underlying biology of SCLC. In the meantime, we are also considering other treatment combinations using this EZH2 inhibitor," says Dr. Lai.
"I'm working in my dream job," says Dr. Lai. "My goal is to continue working in this capacity to lead more research projects and to improve treatment outcomes for lung cancer patients. For me, it's all about the patients. Helping them live longer lives. Helping them have more quality time with their family and friends–that's the goal. And every day we move closer to achieving it."
Related Reading:
---

Juhi Kunde, MA, is a science writer for LUNGevity.