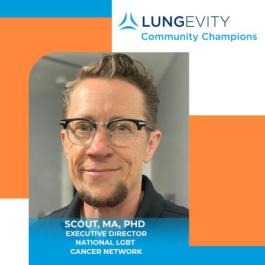 Scout, MA, PhD, is LUNGevity Foundation's second Community Champions recipient. He is the Executive Director of the National LGBT Cancer Network and the principal investigator for both the CDC-funded LGBTQ tobacco-related cancer disparity network and Out: The National Cancer Survey.
A highly sought-after public health educator, Scout regularly works with both governmental and private cancer groups to address the increased rate of smoking within the LBGTQIA population while reducing inequalities in the treatment of lung and other types of cancers. He recently sat down with LUNGevity to discuss the disparities his community faces throughout the cancer continuum of care and his hope for the future.
Please tell us about your role and function within your organization. What led you to your current career path?
I used to run the CDC-funded LGBTQ tobacco & cancer disparity network. But about a year ago, I moved up to running the parent organization, the National LGBT Cancer Network. I think it all started back around 2005 when I wrote a proposal for my first LGBTQ tobacco research project that turned me on to a completely big world of amazing people working in tobacco control, and of course, that's very closely tied with cancer. Now that I run the National LGBT Cancer Network, I have to do more organizational development work. However, I'm lucky that I still get to spend most of my time either doing technical assistance or somehow scheming with partners about how to create more change in this arena.
 
Can you share a description of the high-risk lung cancer communities that you engage and empower?
Unfortunately, the LGBTQ+ population smokes cigarettes at rates 40% higher than the general population. Why? Well, we don't have much research in the area yet but what exists points to stigma … it's a result of the discrimination against us. So, we work to educate these communities about the lung cancer risks and how to break that chain of health disparities.
 
What do you want others in the healthcare ecosystem to know about lung cancer disparities within the communities you serve?
If you are a healthcare provider, the first thing you need to understand is the LGBTQ+ communities have much higher smoking rates than others do. Then, to complicate things, too many of us have had negative experiences with unwelcoming providers, so we are less likely to receive regular care. Therefore, if you want to treat us well, make sure we see some indication that we are welcome at your practice. Then, find out if we've had gaps in our care, find a welcoming place to refer for lung cancer screenings, and follow up to make sure we go.
If you are dealing with cancer itself, there exists another level of concern because we may have to see multiple providers. And we may carry extra anxiety into each one of those interactions – will my partner be welcome? Should I hide being LGBTQ+?
What are some of the unique barriers or opportunities that you face in your work?
One thing most people do not realize is that there are no civil rights protections for the LGBTQ+ community in the US. In fact, there has been a recent upsurge of state bills that take rights away from our communities. Unfortunately, most of them are targeting our trans youth.
However, even under the last presidential administration, there were historic rollbacks in health access protections. So, if you can walk into any doctor and receive treatment, then consider how that is a privilege because LGBTQ+ people have not always had that security.
What programs or efforts has your organization put in place to address needs to support the communities you serve?
We have put out a list of best practices for both cancer and tobacco. We spend much of our time training governmental and private cancer organizations to implement those best practices. Many of our practices look at how welcoming your organization is to our communities, but we drill down to individual procedures too. For example, we're currently building a self-study module on how to use unexpected pronouns respectfully. So if you have someone in your life who uses they/them, soon you will have a resource to get you more comfortable using those pronouns in everyday life. We also launched cancer survivor support groups and will introduce a peer-to-peer support model later in the year. And, of course, we're always growing our survivor information online. Right now, we are analyzing the findings from our survivor survey and are very interested in getting some of the tips survivors shared with others.
 
What gives you hope about the future of lung cancer care?
Right now, I have colleagues emailing me from different cancer centers with pictures of the rainbow logos their centers have put out for pride month. I love that because it's such a clear sign that these centers want to be explicitly welcoming. It gives me hope we can eventually get bias and discrimination out of health care.
 
Related Reading:
---

The job of bridging gaps caused by healthcare disparities falls to community leaders who, through advocacy, education initiatives, and targeted medical intervention, work to meet the needs of the most vulnerable populations. LUNGevity's Community Champions program identifies and shines a light on community leaders whose work in engaging vulnerable communities with lung cancer programs can inspire others.