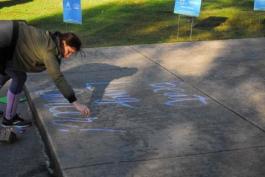 We have heard from our community that people are in need of creative ways to fundraise from home. We love your passion and are excited to bring you creative ways that you can still spread awareness about lung cancer and fundraise, even from home!
We sat down with our fundraising team to talk about some of their favorite ways to fundraise, even while social distancing (emphasis on social). Check out some of their ideas!
1. Teach a class
Many of you might be experts in something or may have perfected a skill during lockdown. Share your knowledge with others by instructing a virtual class as a fundraiser! Give people the opportunity to try a new exercise, make a new craft, learn a new language, or explore any of the other skills you have while raising money for lung cancer. Suggest a donation as an entry fee to gain access to the class.  
Technology has made this easier than ever, with several different platforms available to connect you and your skill with people all over the world.
Real-life example: Lung cancer survivor Claudia Regan is a certified yoga teacher. When the pandemic hit, she wanted to do something that made her feel better and gave her hope for lung cancer, so she started teaching virtual yoga classes. Read more about her lung cancer story and how she raised money through yoga classes in her Spotlight blog post.
2. Host an online game night
This idea puts the "social" in social distancing. Get your friends together for a Zoom game night, such as bingo or trivia. Set an entry fee (we recommend $10-$20). Players can win cash prizes and profits can go towards lung cancer.
Want to spread awareness about lung cancer while raising money? An extra fun idea for your trivia night is to include extra questions about lung cancer. Test your friends and family on their general knowledge while educating them about lung cancer. If you need lung cancer-related questions to get you start, we're here to help!
3. Donate Your Birthday
Social media makes it easy to raise money for your favorite charity on your birthday. Donate your birthday this year to raise money to support lung cancer. It's as simple as launching a fundraiser and setting a goal. Make it personal by including your own motivation for supporting lung cancer.
This idea not only helps raise money, but helps spread more awareness about lung cancer to your social media friends and beyond!
4. Get your kids involved!
With many summer camps cancelled, your kids might not have much to do or look forward to this summer. Encourage them to get creative with fundraising for lung cancer. You'd be surprised how effective they are at fundraising once they have a cause and how much fun they can have doing it.  Mow lawns, sell baked goods, chalk friends/family driveways with special messages for a donation—there are so many fun activities that can help you continue the fight to end lung cancer.
Real-life example: When Harriet Bauer lost her mother, Lois Karp, to lung cancer, she was devastated.  But Harriet's young children, Greta and Owen, have been able to honor Lois's memory by running the "Bauer/Powers Lemonade Stand" in front of their house since 2009, raising awareness and funds for the fight against lung cancer. Read more about their story in our LUNGevity Hero blog post.
5. Set up a matching gift
Make your fundraising efforts go the distance by asking your employer to get involved.  Many companies, big and small, have a Matching Gift program in place. Ask your employer to match (or double or even triple match) what you raise or donate. Whether they have a program in place or not, it never hurts to ask if they'll help you support your cause!  
There are so many ways to stay active in the fight to stop lung cancer.  Send us your favorite ways to fundraise and raise awareness!  Thank you for all that you do to support lung cancer.
Related Reading:
---
Be sure to check out our fall virtual events!
Breathe Deep TOGETHER will be back this fall! Join us again on October 24th for a virtual broadcast of celebration, hope, and remembrance for all those affected by lung cancer, followed by a walk in your own neighborhood. Our staff and volunteers will be hosting FB Live sessions leading up to event day to show off FUNdraising ideas, ways to grow your team, and tips to make the morning of Breathe Deep TOGETHER special! Be sure to join to learn more!
Introducing eRACE Lung Cancer, a new virtual endurance running event for anyone interested in running to support lung cancer. The event will take place October 1 – October 17, 2020. You choose the date you which to run and the distance you want to go (5k, 10k, half marathon, marathon, marathon relay—the options are endless!). Registration is free! Compete with you friends on the track and in raising funds for lung cancer.
LUNGevity's Celebration of Hope event has a new twist. Join LUNGevity for an entertaining virtual recognition event to celebrate and support the hope and progress of lung cancer research. Event highlights include the presentation of the Face of Hope Awards to lung cancer survivor and advocate Jill Feldman and attending Medical Oncologist at Sibley Memorial Hospital Fred Smith, and the Face of Hope Award for Corporate Leadership to Astra Zeneca. The virtual event will stream Wednesday, October 21st at 4:30 PM EST. Register here.