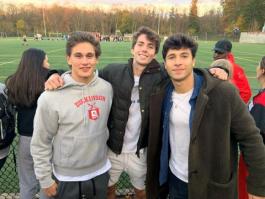 Chris Crane and his friends Matthew Manahan and Eyal Yakoby have pledged to complete extreme physical feats to raise money for lung cancer research through Miles for LUNGevity on December 20th, 2020. As part of the event, Matt will bike 100 miles, Chris will row a marathon, and Eyal will run a marathon. Learn more about their efforts to raise funds for research and get involved here.
 
How did you first get involved with LUNGevity as a fundraiser?
My mom was diagnosed with lung cancer in 2018 and she has since done a lot of advocacy for lung cancer awareness and fundraisers. My friends and I wanted to do something to give back during the holidays and, because lung cancer is a cause that we all cared about, we decided to raise money for that, which led us to LUNGevity.
 
Why did you choose to fundraise for LUNGevity in particular?
We chose LUNGevity mainly because my mom suggested it as we knew the money raised would be used for the most good.
 
What impact do you hope your fundraising efforts will make?
We hope it helps fund research because I've seen firsthand what recent developments have done to help my mom and many others. I also hope it'll get more people into the world of cancer research because so many people's lives are harmed and/or cut short by cancer unjustly; it is beneficial to us all that we take measures to stop that.
 
What advice would you give to someone who is looking to start fundraising for lung cancer?
Everything counts so just start and you'll receive far more support than you expect.
 
What gives you hope?
A passion for life gives me hope. After my mom was diagnosed, she always repeated that "everyone is terminal," and that her diagnosis possibly just accelerated that. Since then, she has truly lived her best life and these last few years have been her best ever. That gives me hope that we can still live happy, productive lives, even when you're facing so much.
To hear more from Chris, Matt,  and Eyal and learn more about their fundraisinge efforts, check-out the Miles for LUNGevity event page.
---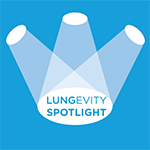 LUNGevity Spotlight is a way to highlight people living with lung cancer, caregivers, volunteers, and fundraisers who are making a positive impact in the LUNGevity community. We hope that their stories will inspire and encourage many more to get involved.
If you know someone in the LUNGevity community whom you'd like us to Spotlight, please nominate them here.