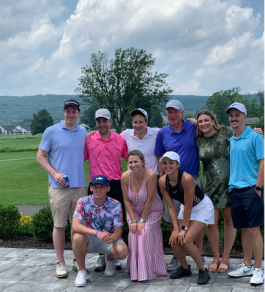 After their childhood friend Jordan Christie was diagnosed with stage IV non-small cell lung cancer at the age of 25, friends Kyle, Jessica, Colin, Matt, Kellie, Julie, and Mike wanted to help. They saw first-hand how difficult living with lung cancer could be. The friends knew they could have an impact by raising money to help fund the two things that helped Jordan the most: new treatments and support programs.
"Matt and I were living with Jordan when he was diagnosed," explained Mike. "Watching the slow progression of the disease was tough. However, we also saw how new medicines bought Jordan time and improved his quality of life. These treatments gave him a few more great years that we were able to spend together."
"The online community is so powerful," Jessica says of the LUNGevity private Facebook group that Jordan joined to get support and find community. "He was able to talk to people going through what he was going through and vent and get advice. For example, he was so strict with his diet, but someone else in the group encouraged him to loosen up and still enjoy life while going through treatment. This advice helped Jordan."
The group for his specific type of lung cancer, ALK+. This community included people who had been living their lives with lung cancer for 10 and sometimes even 15 years, which gave Jordan and his friends hope. "Even though the situation felt at times hopeless, especially when Jordan was first diagnosed, the community was so important to help us all stay positive," Julie says. "It was so reassuring to just know the group was there if we needed them."
The friends' first event to raise money was a bowling tournament, organized by Kellie. Some of the proceeds helped Jordan cover his bills and others went to LUNGevity. They choose to support LUNGevity because they were impressed with the research program and because Jordan had such a positive experience on the private Facebook group.
After Jordan unfortunately passed away, they wanted to give back to the community and continue to raise money to fund more research and resources to help people like Jordan.  They also wanted to honor Jordan's memory, and they did it in the way that he would most appreciate: a golf outing.
Golf, both watching and playing it, was important to Jordan after college. "Even when the treatments took a toll on his body and he couldn't play as much or eventually at all, he still joined us on the course," explained Matt. "When we were brainstorming ideas for how to raise money in his memory, it was the obvious choice."
They picked their hometown course in Mount Olive, New Jersey and hosted the event on Jordan's birthday, July 17. They called the event the JC Memorial Golf Outing – Fore the Cure; JC for Jordan Christie.
They had no idea what to expect, but the event ended up being a huge success. People came from all over the country, even from as far as California. They far exceeded their initial goal of $10,000, raising $11,000 on event day alone, with even more funds matched by a sponsor.
The golf outing was a tournament with prizes such as free rounds of golf or gift cards to the golf shop. They also had a silent auction, with dozens of baskets with items and gift cards, and a 50/50 raffle. A high school friend won the 50/50 raffle, which amounted to more than $1,000, and he choose to donate his winnings back to the event, which touched Jordan's friends and emphasized how important Jordan was to their community. 
The JC Memorial Golf Outing team has big goals for next year. They want the event to get bigger and better, at a nicer course with more prizes and other activities. Kellie says, "Our goal is for nobody, no friend group, and no family to ever have to go through something like this again." They hope to still be hosting a version of the event a decade from now and continuing to raise funds to make their goal a reality.
"While we hope one day they'll find a cure, we know the importance of even one more year," says Matt. "Jordan would often say, 'If I could just buy a little more time, they'll have better medicine and treatments.' It didn't work out for Jordan, but down the line, it can help someone else. We want to raise money to help others in our position."
For those interested in hosting a similar event, Kyle advises, "Don't hesitate to reach out to other people who have done similar events to learn best practices and get tips. Don't be afraid to ask others for help; you might be surprised how many will agree or have connections that could make the event even better. Ultimately, as long as your heart and intentions are in the right place, people will know that and want to help."
Are you considering hosting a similar event? Learn how you can get involved with LUNGevity's DIY events.
 
Related Reading:
---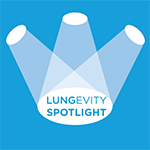 LUNGevity Spotlight is a way to highlight people living with lung cancer, caregivers, volunteers, and fundraisers who are making a positive impact in the LUNGevity community. We hope that their stories will inspire and encourage many more to get involved.
If you know someone in the LUNGevity community whom you'd like us to Spotlight, please nominate them here.