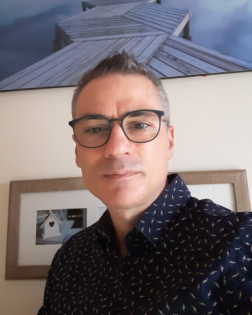 Lea la historia de Fran en español.
I was diagnosed with stage IV lung cancer in 2012 when I was only 39 years old. At the time, there were no tests available to determine what type of lung cancer I had. All I knew was that "it was lung cancer, nothing more."
Although the doctors told me that there was no time to lose and that I had to start treatment quickly, I asked for a second opinion at another hospital because I did not trust the doctor who treated me at first. At the new hospital, I felt more comfortable with the oncologists and trusted their recommendations for my treatment enough to get started.
There were many ups and downs throughout my treatment process. I started with standard chemotherapy: the tumor shrunk and then progressed. After that, I tried other treatments and went into clinical trials, but nothing could prevent metastases to new organs like the liver or brain.
Eventually, they discovered the driver for my cancer: a mutation called ROS1. This was excellent news as I was able to access personalized therapy. Once I started the treatment, I began to improve. The first targeted therapy worked very well for me and contained the brain metastases, although there was finally brain progression after 18 months. I entered a clinical trial of a new personalized therapy, and shortly after, the brain metastases disappeared. I am now stable with low disease burden.
When I was first diagnosed, I felt many negative emotions: pain, anger, sadness, despair, anguish. I was only 39, and most of my oncologists were pessimistic about my chances of survival. It was difficult to understand the possibility that I only had a few more years left.
Over the years, I have learned my own personal strength in fighting this disease. I have become more determined. I have also learned to value life much more now that I have seen my mortality head-on.
Today, I feel fine. I have less energy than years ago, but I still have a good quality of life. Finally having stable disease helps a lot physically and mentally. Many good things have happened during these last 9 years, but the greatest achievement of all has been living so many years to be able be able to tell it.
 While this disease is something you can tackle on your own, I would advise those newly diagnosed to seek out other patients to learn and gain support. Many patient groups are trained and informed by oncologists and have incredible knowledge about lung cancer because they fight the disease themselves. They are an added value that you should not miss.
Even in my darkest days, I have been fortunate enough to remain hopeful - I hope not only this treatment works, but the next and the next. To this day, this hope has sustained me on this long journey.
Related Reading:
---
Fran Miru lives in Barcelona, Spain. He I graduated as a technical specialist in industrial electronics and worked in different companies in the sector until the moment of his diagnosis.  He has gone through multiple treatments during the last nine years, collaborated with associations in defense of patients with lung biomarkers, and created the AEACaP_BioCaP patient network, a network of Spanish-speaking patients and relatives with lung biomarkers.