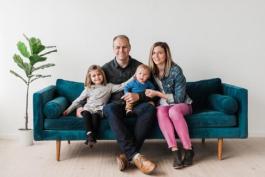 Most people have no idea what a biomarker is. However, biomarkers, and biomarker testing, can be crucial to quality of life and life expectancy for some lung cancer survivors. Biomarker testing is why I can take one pill a day as a treatment for my cancer.
Biomarkers are mutations that may allow lung cancer to grow. For some kinds of lung cancer, like mine, biomarker testing may be performed to provide information on whether there are changes in the cancer cells that can be targeted with specific drugs.
I found out I had lung cancer after I developed pain in my chest during a long plane ride to Hawaii. I went to the ER and the CAT scan showed a tumor in my lungs.  At the time, I had a little girl named Paige and was 33 weeks pregnant with my son Brady. I was only 32 years old.  Luckily, I had biomarker testing that allowed for me to have a very targeted treatment that allows for me to live life as normally as possible. This is part of why I choose to participate in LUNGevity's Inhale for Life: Biomarker Testing campaign.
Inhale for Life: Biomarker Testing is a new social media public service campaign that encourages people diagnosed with non-small cell lung cancer (NSCLC) to ask their doctor about biomarker testing when they're diagnosed or experience a recurrence. I was one of the five lung cancer survivors featured in the video series.
I wanted to participate to share my personal story.  I also think education and awareness around biomarker testing is essential.  I want people to know how important biomarker testing is and that it's the reason I'm alive today.  I met a woman with lung cancer who wasn't being treated properly. I suggested she see my doctor and now her entire quality of life as well as life expectancy has changed. Getting people to the right team in order to get the right care is crucial.
Finally, these videos are important to me to have for my children. I want Paige and Brady to have keepsakes from this time. I also want the videos to help them understand what we went through when they are older because they don't understand now. I am so happy to have this video to share and use forever.
While I think this video is important for people with lung cancer who need to talk to their doctor about biomarker testing, it's also meaningful for everyone to understand that anyone can get lung cancer. You don't have to be old, a long-time smoker, unhealthy, or sick to get it.  I am a healthy, young person. I work out every day. I eat healthy. I run half marathons.  I have lung cancer. It's so important for people to understand that lung cancer can happen to anyone.
Talk to your doctor about biomarker testing for your lung cancer to see if you are a candidate for targeted therapy.
Related Reading:
Cancer: A Journey of Endurance
Targeted Therapies: Past, Present, Future
Hope on the Horizon for KRAS-positive Lung Cancer Patients
---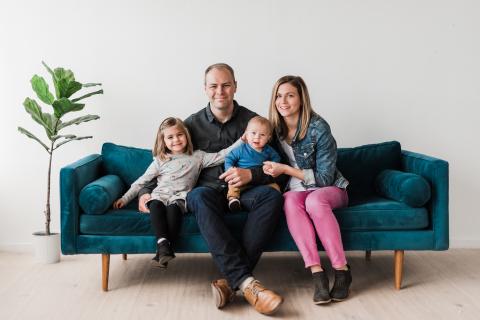 Emily Daniels lives in Golden, CO, with her husband Brian and children, Paige and Brady. She was diagnosed with lung cancer at the age of 32 while 33 weeks pregnant.