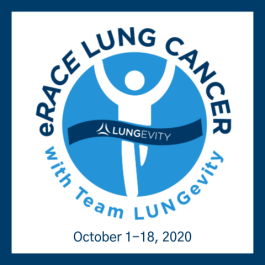 2020 was likely a bit anticlimactic for anyone training for an endurance race. When the public health crisis hit, many endurance races were postponed and eventually canceled. While it's disappointing to spend months training and fundraising for a race that never comes, we are excited to announce we have a new way for those interested in running for lung cancer to get involved!
We love our Team LUNGevity runners and their dedication and passion for supporting lung cancer. That's why this fall we will be hosting eRACE Lung Cancer, a virtual endurance event for anyone interested in running to support lung cancer.
We sat down with LUNGevity's Senior Development Manager, Katie Ginda, who manages Team LUNGevity and is the brains behind eRACE Lung Cancer, to learn more about the event and get tips for runners training for a virtual race.
What is eRACE Lung Cancer?
eRACE Lung Cancer is an exciting new event that we're launching this year! It's a virtual race, meaning you run (or walk) your own race. You choose the distance, location, date, and time. It's totally customizable! It's also a great opportunity to challenge yourself, try something new, and stay motivated through the uncertainties of COVID-19 while supporting our lung cancer community and connecting with others!
We have a few race distances to choose from: 5K (3.1 miles), 10K (6.2 miles), half marathon (13.1 miles), marathon (26.2 miles), or marathon relay (cumulative 26.2 miles). You can also set your own custom distance, or you can choose to "spectate" by signing up without running. The possibilities are truly endless! We ask participants to complete their distance(s) between October 1-17 and then join us for our virtual post-race party on October 18. We'll be featuring many of our participants and their stories, sharing race results and fundraising achievements, and celebrating everyone's accomplishments!
Registration is free! While there's no fundraising requirement, we provide tools and resources to help you raise money, plus lots of fun incentives and challenges to encourage you along the way! For example, you can earn an exclusive eRACE Lung Cancer finisher's medal by raising $625, which is the same number of people who are diagnosed with lung cancer daily in the U.S. Ultimately, the funds raised will help support new lung cancer research, educational resources, and programs like our recent International Lung Cancer Survivorship Conference that are helping patients and families now.
 
Who should participate?
Anyone! The great thing about eRACE Lung Cancer is that it's designed for everyone, whether you're a first-time runner or a veteran marathoner. Because it's a virtual event, eRACE Lung Cancer can be easily customized for all athletic abilities and interests. You can decide to run your first 5K, or you can try for your fastest marathon – or anything in between!
eRACE Lung Cancer is a great opportunity for our Team LUNGevity athletes who'd committed to run and fundraise for major races this year, like the Bank of America Chicago Marathon or TCS New York City Marathon, to continue their training and keep up their fundraising efforts despite race cancellations. It's also a great opportunity for those who already support LUNGevity but haven't participated in our Team LUNGevity program to dip their toes in the water. With no registration fee or fundraising required, there's no reason not to sign up!
My hope is that eRACE Lung Cancer will also give us an opportunity to engage with others who've been affected by lung cancer – they may be living with lung cancer or know someone fighting the disease – who don't know LUNGevity yet and introduce them to our organization, offer our programs and resources, and welcome them to our lung cancer community. Even though it's a virtual event, I think eRACE Lung Cancer is still a great way to come "together," work toward a common goal, and be part of a larger community!
 
Do you have any tips for someone who is training for an endurance running event, whether 5K or marathon?
I'm not a running coach, but from my own personal experience (and plenty of mishaps), there are a few things I'd keep in mind:
Have a plan. For any endurance event, regardless of distance, it's important to have a concrete plan in place with a weekly schedule and specific workouts mapped out. That kind of structure is really important, especially when you're tackling something for the first time. There are plenty of training plans and programs out there. Find one that works for you, and commit to it.
Find a support system. Maybe that's a coach, a friend, a parent, or a running buddy. Someone who holds you accountable, is invested in your training, and wants the best for you but won't let you off the hook for the workout you don't want to do. It's easier to stay motivated when you know someone's rooting for you! You can also join our Team LUNGevity Strava club to follow and interact with other athletes!
Cross-train and recover. Injury is always a possibility, especially when you're logging lots of miles. Cross-training can help though. Try incorporating other non-running activities like swimming, cycling, yoga, or strength training into your workout routine. Also, make sure to take the time to rest and recover. Bonus points for using a foam roller!
Sign up for eRACE Lung Cancer at www.lungevity.org/eRACE today and join our team of dedicated athletes running to support lung cancer!
Related Reading:
---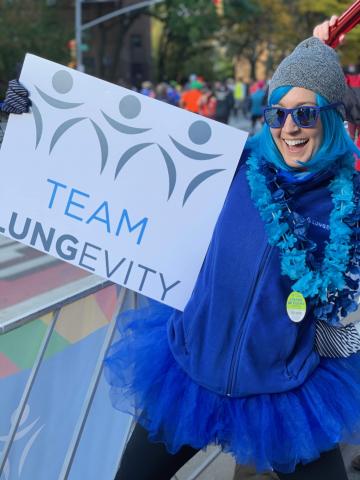 Katie Ginda is the Senior Development Manager at LUNGevity. Katie is an avid endurance runner who has run 5 marathons,  including the Marine Corps Marathon in Washington, DC and the Bank of America Chicago Marathon in Chicago, IL. She will be participating in eRACE Lung Cancer, hoping to complete a 5K, 10K, and half marathon.