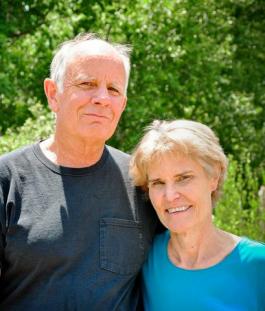 Before I was diagnosed with lung cancer, I did not know anything about palliative care. If pushed, I might say it was similar to hospice care.  Now, I know the only similarity between hospice and palliative care is comfort: while hospice is focused on making you comfortable at the end of your life, palliative care is focused on making you comfortable as you live your life.
My husband and I were introduced to palliative care about a year after my stage IV non-small cell lung cancer diagnosis.  I started seeing a new oncologist at my cancer center. At one of our first appointments, I expressed some concerns, and he recommended that I see a palliative care doctor to deal with them.
I was told that the goal of palliative care is symptom management and emotional support. It's so much more than that, though. At my first appointment, my palliative care doctor helped me set goals for myself and complete my advanced directives. She helped me better understand what was happening to me, she prescribed me medications that could make me feel better, and she listened to what I was going through.
My first palliative care provider left and I was assigned a new doctor; he's awesome and so on top of everything. When I tell him I have a scan coming up, he makes sure to schedule an appointment about a week after so we can discuss the results. He helps my husband and me interpret the doctor's comments and answers any additional questions we have. He has more time to sit with us and go through these sort of things than my oncologist, and does so without being too technical.
In addition to the palliative care doctor, other healthcare providers sometimes join my appointments. Some appointments, a social worker, pharmacist, psychologist, or the hospital chaplain would join and give their perspective on whatever issue I was facing. This was a great opportunity to learn more about how each of these healthcare providers could benefit my care.
For example, I felt a real connection with the hospital chaplain, who helped me with stress management. He gave me different ideas of how to relax, such as breathing exercises, taking warm baths, listening to a podcast he and I both enjoy, and just getting outside. Unfortunately, he has since retired, but it was so valuable to have him at my appointments to offer his wisdom.  
Palliative care has also helped me with issues not related to cancer. I have some back pain, which I brought up at one of my appointments. My doctor recommend acupuncture and referred me to a pain doctor, who helped take care of the problem. I would have never thought to go to the pain doctor and might still be dealing with my back pain if I hadn't been referred to one.
The palliative care doctor was also incredibly insightful during COVID. He told me I couldn't just stay inside all the time, and I needed to find ways to safely get outside and socialize. He would help us determine what activities would be safe and what would not be. It was helpful to have access to an expert who could answer some of our questions, particularly during such an uncertain time.
If possible, it's important to have a care team that is more than your oncologist. Oncologists are generally focused on saving your life, which is great, but palliative care doctors are focused on improving the quality of your life, which helps fill in the gaps in care.
Without my palliative care team, I would feel so isolated. I would get results from my tests and scans and that would be it. With the team, though, I am able to get one-on-one support during which we can have conversations about what it all means and how to move forward.
Last fall, I had a recurrence and needed radiation. After, I saw my palliative care doctor and asked him: "Is this the beginning of the end or just a blip in the road?" He thought about it and said, "You're not going to like this answer. It's a bit of both. However, if you were at the end of the road, we'd be having completely different conversations." This felt so honest, I felt reassured; I'm not sure my oncologist would have been able to give me this sort of answer.
My palliative care doctor says his goal is to help me think less about cancer; he doesn't want me to live every day as a cancer patient. With his help, I've gotten better at this. I now understand I can live life with lung cancer not just as a patient, but as both a patient and a person. This helps me, a naturally pessimistic person, feel hopeful.
If you have cancer and have access to palliative care, I implore you to take advantage of this service. It can be life-changing.
Related Reading:
---
Cindy worked in the Employee Benefits Field for over 25 years. She worked at various law firms and consulting firms before setting up her own company 4 years prior to her diagnosis. Her job was to work with attorneys in helping employers comply with benefit law, including in the later years, the Affordable Care Act ("Obamacare").
Cindy lives with her husband, Jeff, and cat, Sylvia. She enjoys walking, reading, volunteering on small projects, spending time with her husband, family and friends, including her "Women of a Certain Age" church group. Despite living in Colorado, she loves the beach.