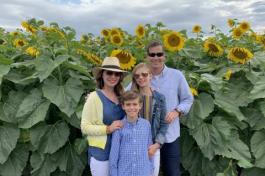 Camp Kesem is a week-long, sleepaway camp offered for children whose parents have been affected by cancer. Each camp is conceptualized, organized, and run by a chapter of dedicated college student leaders from local colleges, many of who have been touched personally by cancer and may have similar experiences to the campers.
Camp Kesem is the signature program of the national organization, Kesem, whose mission is to support children through and beyond their parents' cancer with innovative, fun-filled programs to foster lasting community. 
Erika Hlavacek, who was diagnosed with lung cancer in September 2017, shares her and her family's experience with the camp.
~~~
I had back pain for about three months. It progressively got worse and was misdiagnosed several times: asthma, respiratory disease, etc. The back pain got so bad, I went to the hospital and ended up staying there for 10 days. During my stay, on September 29, 2017, I was diagnosed with stage IV lung cancer.
This diagnosis changed the way my family approaches life. We don't take the day to day for granted like we did before. We are intentional about making family memories and spending time together. We try not to say "we'll do it someday," but actually doing it.
This sounds odd, but my husband Jeff and I also try to find the humor in our situation. It feels so good to laugh, especially when dealing with something like cancer. Humor and laughing can really be great medicine.
We try to instill a similar mentality with our kids, Francesca (11) and AJ (10). It's so important to us that their life doesn't become about cancer and that they still get to experience the joys of childhood.
Shortly after I was diagnosed, I saw an article about Camp Kesem in a local magazine. It seemed to be exactly what I wanted for my kids: fun, meaningful, and magical. The camp we applied to in Illinois was so popular, we were on the waitlist at first. When we eventually got off, it was like winning the lottery to our family.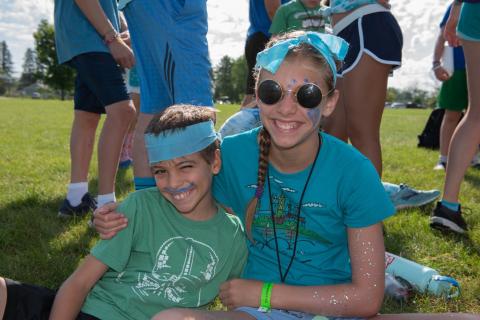 Our first year at camp was 2018, and we sent our daughter Francesca by herself. We were nervous to send her. I'll never forget anxiously awaiting their arrival back home. When the final day finally came, the buses pulled up with all the windows down, filled with happy campers singing camp songs. I spotted my daughter on the bus, and she was grinning from ear to ear and gave me a big thumbs up. My heart melted, and I knew everything was going to be okay.
Magic is what Kesem means, and after Francesca returned from her week away, it was clear that's what it really was. Francesca is super outgoing and positive, but sometimes she keeps things inside. It was a great outlet for her to meet kids who understood where she is coming from and what she was going through. She formed friendships with local kids that she met at camp. These connections are true friendships, even though the kids are from all over the area.
This year, both AJ and Francesca went. AJ, who happens to have high functioning autism, was given a one-on-one aide to ensure he was able to attend.  We were overjoyed at their gesture to include him, and he ended up having a great time. Francesca had almost the same entire cabin from the year before. They stay friends throughout the year, and even had a text thread. It was so nice that they could reunite.
The camp has typical camp activities that are super fun for the kids. At the camp my kids attend, they have an activity called Messy Olympics, where they cover each other with shaving cream, mud from the mud pit, and other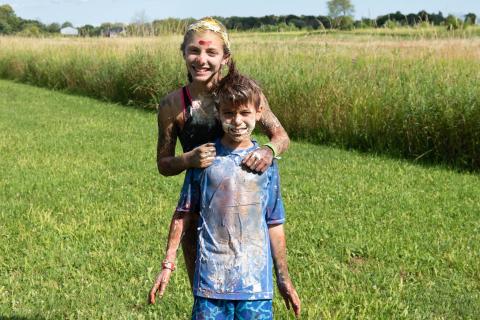 messy items. Francesca loves it. Counselors are part of it too, and she still talks about how fun it is to get your counselors.
Also at the camp my kids attend, they have an activity called Hi-Lo-Ha's, which happen at the end of the camp day in their cabins; each camper would share with each other their high for the day, their low for the day, and what happened that was funny. My son AJ wants to do Hi-Lo-Ha's with family too, especially if we are on vacation or have a big day. It's fun and a nice way to settle at the end of the day.
My favorite activity, however, is Empowerment Night, which happens at every Kesem camp on one of the evenings during the week.  It is a chance for the kids to share or just listen to each others stories, hopes, and fears about their experience with cancer.
Our camp also hosts a picnic at the end of the week, which the entire family is invited to. At the picnic, one of the counselors came over to tell me about something that happened at the week at camp. She told me, during Empowerment Night this year, Francesca, with AJ by her side, spoke and shared her story. It was so meaningful to know that Francesca felt confident and supported enough to share what she is going through. 
Kesem and the amazing work they do has become even more meaningful to us now. Both my husband and I are fighting cancer now, as Jeff was diagnosed with colorectal cancer in April 2019. Throughout the year, they host different events for families to attend, such as a football game at Northwestern University, or a day at a local museum. This is a great way our entire family can get together to do something fun. I am also making a point to get to know a parent from this year's camp. She lives locally and it's great to have someone to talk to who knows what you're going through.
It may feel overwhelming to let them go, but the camp is about having fun, a lot of fun. When you see the friendships they make and the memories they have, it will be so worth it. You will look forward to the next time. It becomes the highlight of the summer.
Want to learn more about Camp Kesem? Check out their website at CampKesem.org.
Related Reading:
Finding Hope in Emerging Therapies
How Biomarker Testing can be Life-changing
---
Erika Arquilla Hlavacek lives in Wilmette Illinois with her husband Jeff and children, Francesca and AJ. Erika is a former airline pilot, but she was a stay-at-home mom when she was surprised by a Stage IV lung cancer diagnosis in September of 2017. She now adds Lung Cancer Advocate to her busy schedule, including fundraising for lung cancer research.