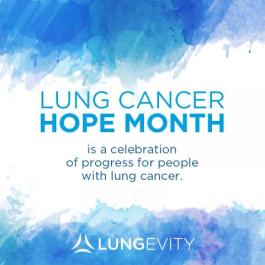 LUNGevity established May as Lung Cancer Hope Month to celebrate the incredible strides in research and survivorship for the lung cancer community. Each year, we have more reasons to be hopeful—more treatments are being approved, more people are being diagnosed earlier, the community of advocates is growing stronger, and many people are living longer and better with the disease.
We are so fortunate that there is so much progress to celebrate in lung cancer. YOU can get involved and help us celebrate this Lung Cancer Hope Month. Check out some ideas here! We hope you'll join us in this celebration of progress and hope.
 
Spread the word
What better way to celebrate lung cancer and spread hope than sharing with your social media network. You can help drive momentum by posting about the many reasons we have to celebrate this Hope Month with your friends and family on your own social media channels. We make it easy for you by providing language options for posting across your favorite social media platforms, along with images that make your posts pop. Don't forget to tag LUNGevity!
Check out our social media toolkit and start spreading the word!  
Share your story
Whether you are a patient, survivor, caregiver, scientist, healthcare provider, volunteer, or any of the other important roles in the lung cancer community, you have a story to tell. Share your lung cancer stories of progress, celebration, and hope on our website to inspire others and spread hope of a better tomorrow.
Think someone you know has a good story to tell? Nominate them to share their story through LUNGevity Spotlight.
 
Put your passion to purpose
This Hope Month, you can turn any activity or occasion into an opportunity to raise funds and awareness for lung cancer. LUNGevity has two opportunities for you to use your interests and activities to honor your commitment to create meaningful change for lung cancer patients and families.
eRACE Lung Cancer is a month-long activity challenge that brings together runners, swimmers, cyclists, and other participants from across the country with one common goal: to erase lung cancer.  Log your miles from your favorite activity during the whole month of May.
Breathe Deep Your Way is a do-it-yourself campaign for activities and occasions of all types. It's a great opportunity to showcase your talents or hobbies, celebrate a milestone, or honor a loved one!  
Sign up today! 
 
Get or give hope
Connect with others who have been impacted by lung cancer to get or give hope.  LUNGevity offers a variety of ways to connect, inspire, and encourage others, from online communities, like private Facebook groups to an online message board, and weekly Virtual Meet-ups, that let patients, survivors, and caregivers to virtually connect face-to-face with others across the country. Find your connection of hope today.
 
Become a lung cancer advocate
Want to see progress in lung cancer continue and for there to be more reasons to celebrate in the future?  Become an advocate for lung cancer through the LUNGevity Action Network. The LUNGevity Action Network gives you the tools and resources you need to amplify your voice to help change lung cancer.  Whether you have 15 minutes or a few hours to spare, you can make a difference today! Learn more and sign up at action.lungevity.org.
LUNGevity has lots of ways for you to celebrate and get involved this May—find one that works for you. Thank you for helping spread the word about the hope in lung cancer and celebrating this important and inspiring month with us!
Other Resources: