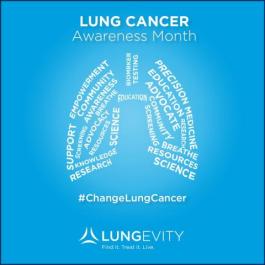 November is Lung Cancer Awareness Month, a time to educate the public about the disease, take action for and raise awareness of lung cancer, and share stories of the people living lung cancer  and their families.   
LUNGevity is spreading the word this Lung Cancer Awareness Month, and we hope you will join us to make a difference! There are plenty of ways to participate - check out five ideas to get you started below.
Stay Up-To-Date
Get the facts by checking our lung cancer statistics, reading our online blogs, and  signing up to get periodic emails from LUNGevity with the latest news delivered straight to your inbox.
When you arm yourself with the latest information about lung cancer research and treatment, you'll be prepared whenever the opportunity arises to share facts, compelling stories, and ways to make a difference.
Employ the Power of Social Media
Do you follow LUNGevity on social media? LUNGevity posts regularly to keep our followers in-the-know about what's happening at the Foundation and in advancements for people living with lung cancer. You'll find blogs, videos, inspiration posts, and trending lung cancer news on our social media accounts. Follow us @LUNGevity and join in the conversation by liking, commenting, and sharing our posts to help spread the message.
Want to engage your social network in the conversation? You can start the conversation by updating your Facebook profile picture to our #LCAM frame. LUNGevity also has pre-written posts and graphics that you can share on your own feed to help your community learn the facts about lung cancer.
Finally, you can join in our newest movement – KNOWvember, part of the No One Missed campaign. Share your biomarker testing story on social media using #KnowYourBiomarker to help spread awareness about comprehensive biomarker testing for non-small cell lung cancer patients.
Get to Know Your Legislators
Set up an appointment to speak with your legislators virtually or in-person to tell them your story and explain why lung cancer should be a national priority. A relationship with your legislation will be beneficial in the future when legislation that may impact you is proposed.
All perspectives are valuable for legislator to hear. Whether you are a lung cancer survivor, a caregiver, or a healthcare practitioner, your voice and experience matters and can be effective in getting legislators to pay attention to policy issues impacting people with lung cancer.
Not sure who your legislators are? The LUNGevity Action Network will help you identify your federal legislators and makes it easy to reach out. 
Raise Vital Funds
The good news: we have seen unprecedented advancements in diagnosing and treating lung cancer in the last few years. The better news: we can continue this momentum by supporting more lung cancer research. With more funds and strategic investment in research, we can ensure those affected by lung cancer have the same promise as other cancers.
There are an infinite number of ways to raise funds for LUNGevity to support lung cancer research, education, and support programs! You can walk with us at Breathe Deep TOGETHER on November 6 to raise awareness and funds. If completing an endurance event is on your bucket list, join Team LUNGevity and cross the finish line on behalf of everyone impacted by lung cancer. You can also create your own fundraiser through LUNGevity's DIY Events Program.
Connect with Others Affected by Lung Cancer
Whether you are new to your diagnosis or have been navigating the disease for many years, you can find encouragement this Lung Cancer Awareness Month by connecting with others who have been impacted by lung cancer.  
LUNGevity hosts weekly Virtual Meetups for patients, survivors, and caregivers to virtually connect face-to-face with others across the country. Join us for conversations about shared experiences, discussions about pressing topics in the community, and a new network of support.
Give support to someone who needs it by becoming a LifeLine mentor! LifeLine Support Partners are volunteer mentors who offer encouragement, advice, experience, and hope to those newly diagnosed and anyone needing additional support through a one-on-one personal connection by email or telephone.
LUNGevity also offers a variety of online communities, from private Facebook groups to an online message board, that provide support, information, and friends by peers impacted by lung cancer. Check out our online communities on our website.
Never underestimate the difference one person can make. Whether you are spreading awareness about lung cancer in your community and online, raising invaluable funds for lung cancer research and programs, or connecting with someone who needs your support and encouragement, you have an important role this Lung Cancer Awareness Month. Thank you for joining us in this fight against lung cancer.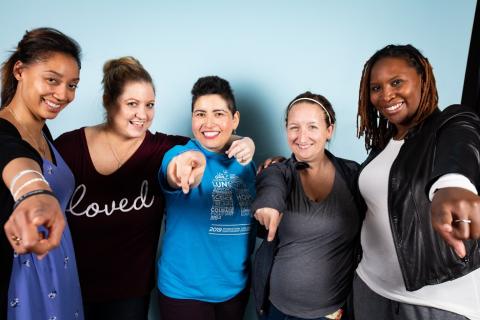 Other Resources: