Most people who aren't directly affected by lung cancer won't know what the month of November signifies. November is a month in which we give thanks. We celebrate Thanksgiving and prepare for winter holidays and gift giving - but November is also Lung Cancer Awareness Month (LCAM).
Those of us who have been personally affected by lung cancer understand the importance of this month. LUNGevity supporters and advocates want to make others aware of this disease, the need to invest in lung cancer research, education and programs and to provide support so that more people can survive it.
LCAM is not about smoking or tobacco cessation. LCAM is an opportunity to educate people about lung cancer, the statistics and the fact that anyone with lungs, even those who have never smoked, can get this disease.
Over social media platforms we are changing the way people think about lung cancer. Last year LUNGevity created the hashtag #ChangeLC . We asked the lung cancer community to join us as we change how people learn about, treat and live with lung cancer. We continue to do that all year long.
This November we will draw attention to the advances in research and services that are improving outcomes for people living with lung cancer.
November is a Call to Action to everyone impacted by lung cancer to unite, collaborate and raise their voices. It's a chance for us to educate and inform the general public about the epidemic of lung cancer and to continue to change how we talk and think about this disease.
Here are some ways LUNGevity is kicking off LCAM:
The Lung Cancer Project, LUNGevity, and the lung cancer community are teaming up in November to spark conversation and spread hope through the Every Lung Deserves Hope campaign.
We have launched a comprehensive multi-media initiative highlighting advancements in lung cancer research throughout the month of November with survivor videos, survivor blogs, expert blogs and interviews, and weekly social media content which will include topics like: molecular testing, immunotherapy, early detection, targeted therapy, and caregiving.
LUNGevity has also launched the Lung Cancer Advocacy Toolkit with downloadable information to empower people to become actively engaged in increasing awareness about lung cancer and dispelling myths and stigma surrounding the disease.
We're joining with Amgen to promote the importance of bone health when living with metastatic lung cancer.
We've partnered with Celgene to provide information and support to lung cancer caregivers by providing "Your Journey Together "tip sheets, caregiver videos and hosting a monthly caregiver Twitter Chat the first Wednesday of the month at 7pm Central/8pm Eastern.
We are collaborating with organizations, industry and advocates to educate, engage with and support the lung cancer community.
When my dad was diagnosed with lung cancer in 2002, the standard of treatment for his type of lung cancer hadn't changed in over 40 years. He lived 11 months and 21 days after his diagnosis. He deserved a fighting chance and I miss him every day. Through research, education and support for those diagnosed with this disease, LUNGevity is giving people a fighting chance against lung cancer.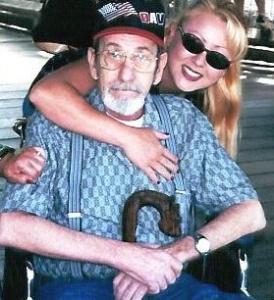 In the last 5 years I've witness an exciting time in lung cancer research. I've seen more therapies developed and more options unfold. I'm meeting more survivors.
I'm asking our supporters and everyone I meet to spread the word about lung cancer. For us at LUNGevity, LCAM is every month, but during November we make an extra effort, so that one day no one else will lose someone they love to this disease.
I'm asking you to help us this November. Here's how you can advocate.
Tell someone that November is lung cancer awareness month.
Take a picture with your sign or your LUNGevity 'Bandy' and let's make it viral.
Share the facts about this disease and let people know that if they breathe, they can get lung cancer too.
Distribute materials in and around your area to hospitals and support organizations
Share our articles, blogs and videos over social media. 
Let people know about LUNGevity's comprehensive lung cancer 101 website
Let people know about LUNGevity programs and services
Create a new event or volunteer or participate in events in your area
Volunteer to be a buddy for a patient or caregiver
Become a volunteer Social Media Ambassador
Let's raise awareness this November in honor of the 435 people who die of lung cancer each and every day and the 220,000 people in America who are living with it.  
---
Katie Brown is the VP of Support and Survivorship Programs
---
Thank you Katie for all the amazing work you do and this post. I'm doing a talk tonight at my Toastmaster's group on Lung Cancer awareness . This is so.... important.
Add new comment