LUNGevity Foundation is proud to be the leading lung cancer-focused private funder of research in the United States.
Since 2002, LUNGevity has funded 118 scientific research projects at 58 institutions in 23 states.
Whether we are supporting early-career scientists or established researchers, we work with top lung cancer experts to identify and fund promising and innovative research into the early detection and treatment of lung cancer.
You can help. Invest in research now or learn about other ways of supporting LUNGevity.
Our Funding Mission
We fund research to:
Expedite the development of an effective early detection strategy to find all lung cancers while they are still localized and treatable, in order to prevent lung cancer-related death
Identify therapies that provide customized intervention for lung cancer, in order to extend patients' lives and improve quality of life post-diagnosis
Why This Is So Important
The Government Is Not Focused on Funding Lung Cancer Research
There are many factors involved in how research is funded. Lung cancer is the number-one cancer killer in the US, yet it receives far less federal research funding per life lost than other major cancers, such as breast, prostate, and colon.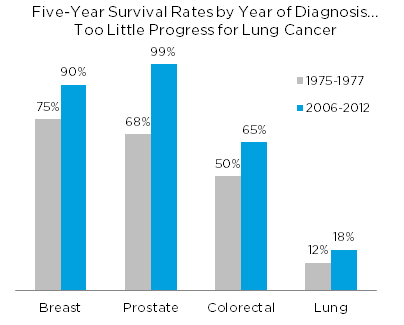 Five-year survival rates by year of diagnosis from the SEER Cancer Statistics Review 1975-2013, posted April 15, 2016.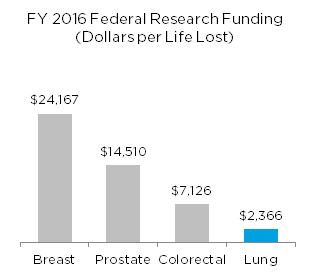 Estimated federal spending from the combined FY 2016 budgeted research dollars of the National Institutes of Health, Department of Defense, and Centers for Disease Control and Prevention. Estimated deaths from SEER Cancer Statistics Review, posted April 2016.
Tobacco Settlement Money Is Not Funding Lung Cancer Research
Through 2025, the Master Settlement Agreement and agreements with individual states will pay $246 billion to the 50 states, the District of Columbia, and five U.S. territories. In 1999, the National Governors Association declared its commitment "to spending a significant portion of the tobacco settlement funds on smoking cessation programs, health care, education, and programs benefiting children." A review of the most recent Government Accountability Office report on states' allocation of their payments reveals that virtually none of this money is being spent on lung cancer research.
Take Action
With your help, promising research will get a much-needed boost to reduce lung cancer mortality.
Donate today. You can make a difference and get us one breath closer to the end of lung cancer.