LUNGevity is the nation's leading lung cancer-focused nonprofit.
We are changing outcomes for people with lung cancer through research, education, and support.
Lung Cancer Awareness Month
Lung Cancer Awareness Month is a time to raise awareness about lung cancer through special activities and campaigns. LUNGevity has great opportunities to help you make a difference all month long.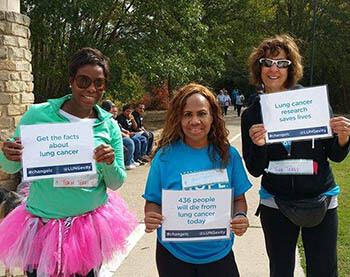 On October 26, the Board of Directors, staff, and the entire lung cancer community lost a dedicated leader, advocate, colleague, and friend to lung cancer. A member of the board since 2009, Jerry founded the Breathe Deep DC Walk and played an important role in guiding the Foundation to its current mission and focus. All who knew him will miss his powerful and selfless leadership. We rededicate our efforts in Jerry's memory to helping people living with lung cancer live longer, better lives.
Upcoming Events
Find our full list of events here
On Our Blogs
At Breathe Deep events around the country, participants share a deep resolve to keep working...