Jay Mathers traveled to Nepal in October 2022 with his sights set on summiting Mt. Ama Dablam. This iconic Himalayan mountain is a stunning 22,349 ft. Due to dangerous conditions, Jay was just shy of the summit, having climbed 21,000 ft while fundraising for LUNGevity in memory of his sister. Jay used LUNGevity's Create Your Own fundraising tools to raise more than $5,700, which added to the significance of his climb as LUNGevity was a cause near to his sister, Kim Mathers-Heffernan's, heart.  
We sat down with Jay to discuss his experience and learn more about his time on Mt. Ama Dablam.
---
What inspired you to combine climbing with fundraising for LUNGevity?
I had already planned the trip to Nepal when I decided that I wanted to do something to raise money in memory of Kim. Mountaineering, or climbing, is a selfish endeavor in and of itself, so I wanted to make this trip bigger than just my time on the mountain. My sister knew that mountaineering is one of my passions, and she always supported me. I think she lived vicariously through my adventures and liked when I'd share my stories and memories with her. So, this trip, and ultimately fundraising for LUNGevity, was another way of sharing the experience with her.
Was there a significance to your choice of mountain?
It's one of the most beautiful mountains that you can climb. You can throw Ama Dablam in with the Matterhorn and other iconic mountains. If you talk to a lot of locals, they say that it is even more beautiful than Everest. As for the name, ama means mother and the dablam is a necklace that Sherpa women wear. Traditionally, the dablam has a pendant filled with juniper or pictures of the gods and is a part of their spiritual practice. So, the ridges that come off Ama Dablam look like the arms of a mother and the dablam is the serac, which is a hanging ice glacier near the summit. The imagery is beautiful. I have been climbing for the last 30 years and I have always wanted to climb in the Himalayas. I had the opportunity to go, and I went.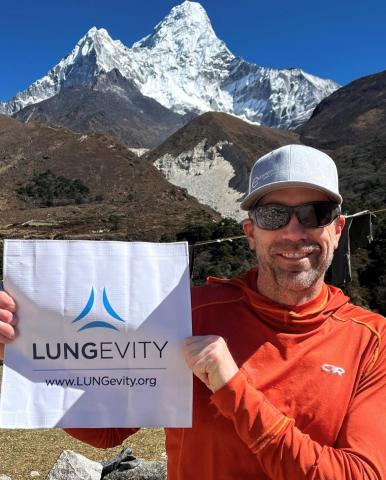 As you were hiking, what was fueling you? Memories of your sister? The mission of the fundraising?
For me it was a bit of both. 2020 was a very difficult year for me. My sister passed away in the summer of 2020, and then in December of that same year I lost two of my best friends in an avalanche. So, the memory of my friends and my sister fueled the trip.  
This climb was particularly special thanks to the support I got while I was there. My guide, Sonam Sherpa, who I climbed with was fully on board. He is only 27 but has climbed Everest twice and had been on Ama Dablam before—he's half my age but had such an old soul and was just an amazing person to be in the mountains with. He also has a good singing voice. When we made it as far as we could go, he stopped and sang a song for my sister Kim. When he started singing, I was very emotional. He sang "Don't Worry, Be Happy" and wanted me to join in, but I just couldn't. I was overpowered by emotion and what that moment meant. It was a really powerful experience—the entire trip was.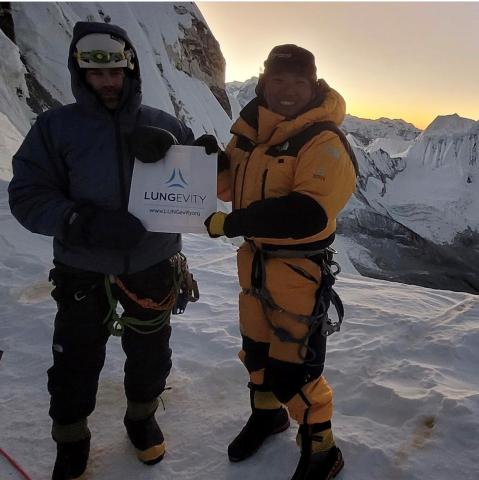 A lot of my drive comes from spending time in the mountains. Exploring the culture and being in the Himalayas was more important to me than the summit. I am not a summit-driven climber. I care more about the process and journey. I've climbed all over the world—Peru, Alaska, a little in Europe, and many areas of the continental US. This experience will always hold significance, though.  
Why fundraise for LUNGevity?
When my sister was diagnosed with EGFR+ lung cancer in 2015, she was complaining about rib pain. I am a physician, so she called me about everything health-related. Her sons play hockey, and she thought that the rib pain may have come from grabbing hockey gear out of the car. I told her to go to the doctor and get a chest x-ray, and when she did, she was immediately sent to the emergency department for a CT scan. That is when they first found the mass in her lungs, and from there it spiraled.
She lived in Chicago and her oncologist was at Northwestern. She received targeted chemotherapy as well as experimental chemo. She was introduced to LUNGevity through research, and from there became very involved in the Foundation. She participated in the support groups and really cared about the community and meeting other people with non-small cell lung cancers as well. That was my introduction to LUNGevity. Her passion for the organization was what made me want to support LUNGevity and your work. She met a lot of people going through the same thing that she was going through and that helped her when she needed it the most.
What would you say to others interested in creating their own fundraiser?
The website and the fundraising platform are incredibly easy to use. I have very little experience with fundraising, so this was something new for me. A great place to start is finding something that you're passionate about, like I am with climbing, so that you're driven by both the cause and the activity you're planning on doing. It makes it that much easier to ask for donations when people see your enthusiasm. It doesn't have to be something big, either—like a mountain or a major project—it can be simple. The Create Your Own fundraising page has suggestions and examples of fundraisers that other people have created. As long as you feel a connection to what you're doing, you will be successful.  
---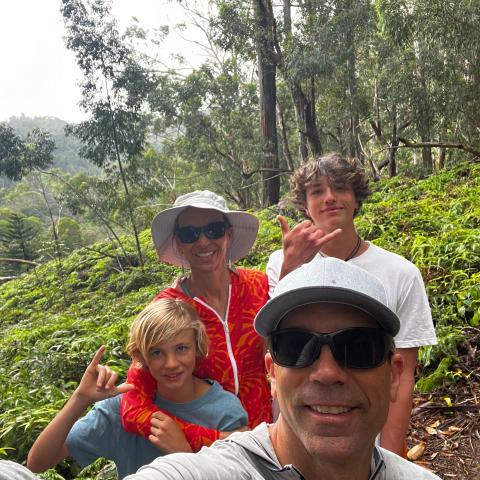 Jay Mathers is an experienced outdoorsman, fellow in wilderness medicine, and emergency medicine physician living in Colorado. Jay's passion for the outdoors has fueled the creation of his company, Mountain Medicine Institute, LLC, through which he teaches nurses, doctors, and paramedics wilderness medicine. He also provides medical consultations for guide companies and others climbing internationally.
You can learn more about the Mountain Medicine Institute, and Jay's other travels, here.
Other Inspiring Stories: