Sherry Jones and her family are carrying on the torch for Living Wide, an inspirational movement started by Gregory Jones after his lung cancer diagnosis in 2016. According to Living Wide's website, Gregory dedicated himself to maximizing the width of his life because he had no control over the length. To mentor, educate, and advocate for others, he founded Living Wide, an organization dedicated to helping all people live with joy, hope, meaning, and purpose despite profound uncertainty. This unifying message continues to motivate all people, regardless of circumstance, to live life to the fullest. After Gregory's untimely passing in 2020, his wife Sherry and their two children, Christopher and Elizabeth, continue to spread the message of Living Wide and raise awareness for lung cancer and LUNGevity Foundation. We appreciated the opportunity to sit down with Sherry to discuss her family's experience, Living Wide, and the extraordinary way that Christopher is bringing his father's message to a national television audience as a participant on American Ninja Warrior.
How was your family first introduced to LUNGevity?
Gregory was diagnosed in December 2016, and he connected with LUNGevity shortly after. Discovering the LUNGevity support groups was so impactful for Gregory because he was able to meet and talk to others who knew exactly what he was going through. There were more experienced members of the community that were very savvy in navigating the science, and both Gregory and our family learned a lot from their expertise. Gregory later became a leader and mentor for other survivors in the support groups as well. Helping others is what really got him through his own experience with lung cancer. All of this happened because of LUNGevity.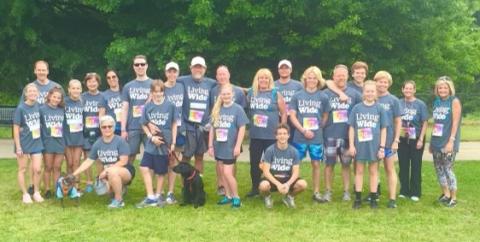 In 2018 he also became involved in Breathe Deep Atlanta. He created a Living Wide team and was a top fundraiser for that event. He was a very personable guy, super intelligent, and he connected with folks through the walk as well as being an active part of the lung cancer community online. LUNGevity later called on him to speak on panels, and he even participated in one with the FDA (Food and Drug Administration) discussing researching new drugs. LUNGevity and its emphasis on accelerating scientific knowledge and research really resonated with him.
After he was diagnosed, he had a choice. He could have given up, but instead, he chose to face the diagnosis head-on and was motivated to live as long and as fully as possible. We got really frustrated because as soon as people learned about his diagnosis, they always had two questions. The first was "Did you smoke?" Which was a very annoying question. As if he would have deserved it if he had. The second was "How long do you have to live?" He had a stage IV diagnosis. The question about time really triggered something within him. He wondered, "Why is that so important? Isn't it more important how I fill my days?" So, he coined the term Living Wide. The idea of living life to the fullest is not new, but for him, it was a way to find meaning in something that otherwise felt so impossible and absurd. He would have never thought he would be diagnosed with lung cancer, but he made the choice to make the most of the hand he was dealt and the time he had left. It set him on a course for improving his own mental health. He sought to make the world a better place for people in similar situations as his. The message also resonates with people who do not have terminal illnesses – nothing is promised, and we should all live life to the fullest, tell the people we love that we love them, be kind, and find meaning in what we do.
How is Living Wide continuing in Gregory's absence?
He had big dreams but then ran out of time. As a family, we are trying to answer this question. We didn't know exactly what to do, but we knew that Living Wide was not over. Gregory's twin sister, Cynthia Wilson, has taken the lead role, along with Christopher and Elizabeth, in keeping Living Wide strong. They brought back the Living Wide website with technical assistance from my nephew Warren Wilson, and have big plans for an Instagram presence (@living.wide). Gregory would love that Living Wide, as an organization, is a family affair. Another way that the idea and spirit of Living Wide continues is through Christopher's participation in American Ninja Warrior. One of the miracles of Christopher's experience has been that it has reinvigorated the importance of the Living Wide message and has shown that it can help all people. For example, after Christopher's first episode and sharing his story, we received hundreds of messages on the Living Wide website. People were thanking us for sharing the message of Living Wide and asking for t-shirts! Living Wide is more than just an idea, it is a philosophy and now a community.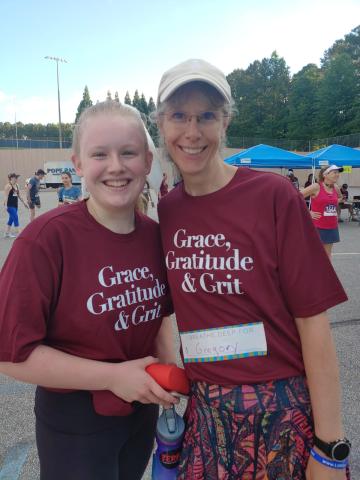 After Gregory died in 2020, we held a small family memorial, but I wanted to also host a larger memorial gathering and fundraiser in his honor. On May 29, 2022, Gregory's birthday, we held the Living Wide─Gregory Todd Jones Memorial 5k and it was a fantastic way to celebrate his life and what he stood for. We had over 150 people sign up and participate. During the race, Elizabeth and a few of her friends, demonstrated how Living Wide takes many forms, including their own choreographed dances to entertain runners and walkers as participants rounded the first loop and then again as they headed towards the finish line. The event proceeds went to LUNGevity, and I knew that he would be so proud of people being active and remembering him in that way. After his diagnosis, he set on this mission to participate in races, and we did many of them together as a family. Gregory always said, "if you can, get out and hike, and if you can't hike, then walk, and if you can't walk, then just get outside."
As a mother, how does it feel watching your son honor Gregory on Television?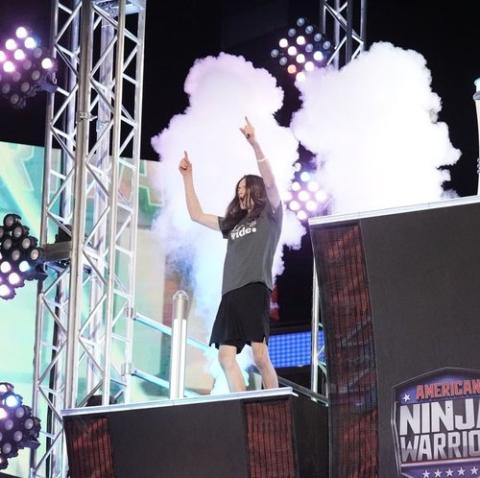 It is so cool! It is beyond my imagination, and it is a dream come true for Christopher. The funny backstory is that when he was applying to be on the show, he was under the age requirement, but he knew from the previous seasons that they sometimes let younger teens compete. He thought, "I want to apply, what is the worst that can happen?" And what do you know? He was selected. Our story is the quintessential story for T.V. because it pulls at the heartstrings and is also inspirational. Christopher has overcome a lot, including learning disabilities and sensory processing challenges. He struggled as a kid with anything related to coordination. His dad was so proud of the grit that Christopher has. Every day that Christopher could go to the gym and practice he gave it his all, plus he did extra work at home. I know it was special for Christopher to honor his dad by being on the show. We joke that his life peaked at 17, but in all seriousness, it is beautiful to see the confidence that working towards this dream has instilled in him. The death of a parent is one of the toughest things that a teen can face. Yet he did not give up on his dream or the hard work that he put into preparing for the competition. Christopher has been called the Living Wide Warrior on the show, and the title is certainly fitting.
I would close by saying that when Gregory was struggling, LUNGevity was there for him. LUNGevity helped him personally, and maybe more importantly, it gave him a purpose. It was so impactful. He loved helping others and I don't know where all that energy and passion would have gone without LUNGevity. Maybe he would have found something else to invest in, or maybe LUNGevity was the exact right thing at the exact right time. LUNGevity made such a profound impact on the time that he had left, and I am so grateful for this organization. It feels like shining a light on LUNGevity is the least we can do so that hopefully, others can find you too.
Learn more about Living Wide and Christopher's exciting experience on American Ninja Warrior here. You can tune in and cheer Christopher on in the semi-finals of the competition, airing August 8th on NBC.