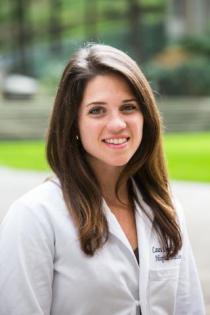 When Laura Petrillo, MD, meets an advanced-stage lung cancer patient for the first time, she begins by explaining what she does. As a palliative care physician at Massachusetts General Hospital, Dr. Petrillo is an important part of the patient's oncology team, but her role is often misunderstood.
Many people mistakenly believe palliative care is the same as hospice care, but the two are not the same. Patients transition to hospice care after their cancer-focused treatment ends; hospice is focused exclusively on maximizing quality of life at the end of life. Palliative care is much broader and ideally, it is incorporated into an advanced-stage patient's treatment plan from the time of diagnosis. Palliative care encompasses several domains, including: 1) managing pain and other symptoms; 2) providing support for psychological issues, such as coping with cancer, 3) helping patients understand their disease and ensuring that their care is aligned with their goals and preferences.
"Palliative care focuses on helping people manage the symptoms and the stress of serious, advanced disease," explains Dr. Petrillo. "We work with the oncology team as an extra layer of support. Our ultimate goal is to improve the quality of life for the patient and their family."
About ten years ago, researchers conducted a study in advanced-stage non-small cell lung cancer patients to look at the impact of introducing palliative care near the time of diagnosis. The results of this important study were published in the New England Journal of Medicine and demonstrated that the early integration of palliative care provided significant improvements in patients' quality of life. This seminal paper helped establish the protocols for introducing palliative care near the time of diagnosis.
By connecting with the patients early in their treatment journey, palliative care specialists can build relationships with the patients, understand their unique family situations, and ensure the patients are getting the treatments that allow them to live their best lives.
"We also do a lot of work to enhance communication between the patient and the oncologist," says Dr. Petrillo.  
For example, some patients may hesitate to tell their oncologist about side effects or symptoms because they are concerned the oncologist might take them off the treatment. However, patients may be more open with a palliative care specialist who can help them manage their symptoms.
"Sometimes the oncology team will request that we attend a meeting with the patient so that we can all discuss the treatment plan," says Dr. Petrillo. "Or sometimes they request that we follow up with the patient after an important office visit to ensure they are comfortable with the next steps of treatment."
Other examples of palliative care are helping patients understand their scan results and helping patients identify their needs for support at home.
Palliative care professionals can also offer resources for patients to help them cope with the diagnosis. "Patients find tremendous support from knowing other people with a similar cancer diagnosis. LUNGevity does a wonderful job of helping people meet other cancer survivors – through the International Lung Cancer Survivorship Conferences, Lunch & Learns, and online forums," says Dr. Petrillo. "So early in my discussions with patients, I often make sure they are aware of LUNGevity's great programs and resources.  It can really help to know they are not alone."
Palliative care has been so successful for lung cancer patients that scientific studies are now underway to demonstrate the benefit of palliative care in patients with other forms of advanced disease, such as renal disease or cardiac failure. Researchers are also studying how to optimize palliative care using telehealth tools.
Dr. Petrillo's palliative care research aims to identify the best ways to help patients cope with the uncertainties of being treated with new and emerging therapies, such as immunotherapy or targeted therapies, for advanced-stage lung cancer.
Over the past decade, palliative care has become more available in the United States. However, some physicians don't recommend palliative care in the early stages of diagnosis because they worry it can scare patients who mistakenly think they are being referred to manage end-of-life issues. Patients may have to ask for palliative care options.
Another major challenge for patients is that palliative care can be confusing, because there is a range of palliative care services that can be found at different types of institutions. Home-based hospice services sometimes offer palliative care guidance with a home nurse. However, most large cancer centers and hospitals in the U.S. have palliative care clinics that work closely with oncology teams.
"Once people meet with us and understand more about palliative care, they often find something that is useful to them," says Dr. Petrillo. "We are right there with our patients and their oncology team, celebrating the victories in treatment and hoping for an even brighter future."
Looking for a palliative care provider? Check out a national directory of palliative care providers by clicking here.
Learn more about palliative care on the LUNGevity website.
Related Reading:
---

Juhi Kunde, MA, is a science writer for LUNGevity.