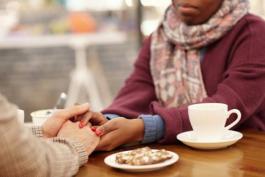 Being a caregiver for someone with lung cancer can be rewarding, but it can also be challenging. This is because a lung cancer diagnosis is life-changing for both the person with the disease and their caregiver.
Lung cancer caregivers willingly and selflessly devote their time to care for the person with lung cancer, but it's all too easy to neglect themselves at the same time. It is okay to need help or support, and there are resources available to help you take care of the person receiving care as well as yourself.
Check out some resources LUNGevity offers for lung cancer caregivers to find information, community, and emotional support.
Download our caregiver tip sheets
If you're new to caregiving, be sure to check out our downloadable caregiver tip sheets, where you can get tips for navigating your loved one's lung cancer diagnosis, covering topics such as:
Transitioning to the caregiver role

Talking with the person receiving care about lung cancer

Keeping family and friends informed

Working with a health care team
Check out the caregiver resource center
LUNGevity's Caregiver Resource Center is a repository of information and tools to help you manage your loved one's cancer and assist you with this new caregiving responsibility.
The resource center will help you learn about the role of the caregiving, asking for help, legal and financial considerations, caregiver fatigue, and life after lung cancer.
You may also want to visit our Survivor Resource Center, and especially the Practical Support section; there are many ways you can help your loved one with financial decisions, insurance, and more.
Get a caregiving mentor  
Finding someone who understands what you're going through isn't easy. That's why LUNGevity created the LifeLine Support Program to match caregivers to mentors who have experienced the journey of lung cancer before.
After you join LifeLine, you will get matched with an experienced caregiver for one-on-one support and advice. Our mentors can help you navigate the logistics and emotions of lung cancer caregiving as well as be an ear to listen and a shoulder to cry on.
Connect with other caregivers
Looking to connect with a community of lung cancer caregivers who share similar experiences?
You'll want to check out LUNGevity's Lung Cancer Support Community, an online support network for anyone touched by lung cancer. LUNGevity also has 15 private Facebook groups based for lung cancer types and mutations, treatment options, and special interest groups, including a dedicated group just for lung cancer caregivers. In both online communities, you'll find support, education, empowerment, and hope.
Prefer to connect face-to-face? LUNGevity hosts a monthly Caregiver Virtual Meetup on the fourth Thursday of each month. Join us on Zoom for conversations about issues important to lung cancer caregivers and to share your common experiences.
However you prefer to connect, you can start building your community of fellow caregivers today.
COPE Sessions at HOPE Summit
HOPE Summit is an educational conference with special COPE sessions that help family caregivers better manage and navigate their loved one's care while learning about self-care and the lung cancer caregiving community.
Expert-led sessions will focus on topics important to family caregiving, such as:
Balancing caregiving and work

Managing caregiver fatigue

Estate planning, wills, and advance directives

Managing grief during caregiving
The COPE sessions at HOPE Summit also provide opportunities for attendees to connect with fellow family caregivers and build a network of support.
Caregiving may be the most difficult job you ever take on, but also one of the most valuable. Remember that you're not in it alone—there are many resources to assist you.
If your loved one is newly diagnosed with lung cancer, one of the best things you can do for them is to learn more about the disease. A better informed patient is an empowered patient. LUNGevity has valuable resources that make understanding lung cancer easier, from educational booklets, brochures, and flyers to a medically-vetted, easy-to-understand educational website.