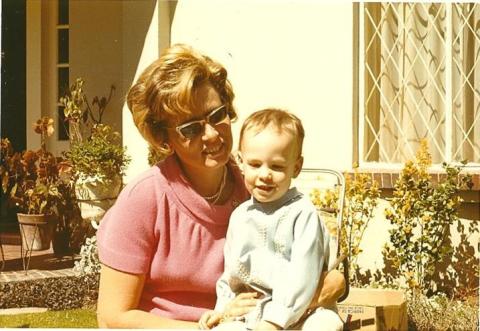 This November 5th, my children and I will be lacing up our sneakers for a cause close to my heart: raising money and awareness for lung cancer as proud members of Team LUNGevity, in the TCS New York City Marathon. This endeavor isn't just about completing 26.2 miles; it's a tribute to my mother (their MomMom) who succumbed to this devastating disease. It's also a call to action to shine a light on the progress that's been made and the miles we still have to go to create a world where no one dies from lung cancer.
Fifteen years ago, I lost my mother to lung cancer. Her strength, resilience, and the enduring memory of her illness have inspired me to run this marathon and do my part to make a difference. As Helen Keller wisely noted, "I am only one, but still I am one. I cannot do everything, but still I can do something; and because I cannot do everything, I will not refuse to do something that I can do."
Despite the inherent challenges of transitioning from a casual runner to the rigorous demands of marathon training (sore muscles, shortness of breath, and overall fatigue), I know that it is nothing compared with the immense fortitude displayed on a daily basis by those living with lung cancer. The challenging training regimen, marked by early mornings, long runs, and intense workouts, is a small sacrifice to help raise awareness for the 650,000 Americans living with lung cancer and the need for better treatments and outcomes.
I asked my children what inspired them to train for and run in their first marathon and this is what they said:
I am running the marathon with my family to honor both my grandmother who passed away from lung cancer as well as all the incredible work scientists and LUNGevity Foundation are doing to find a cure for this disease. (Nicola, age 25)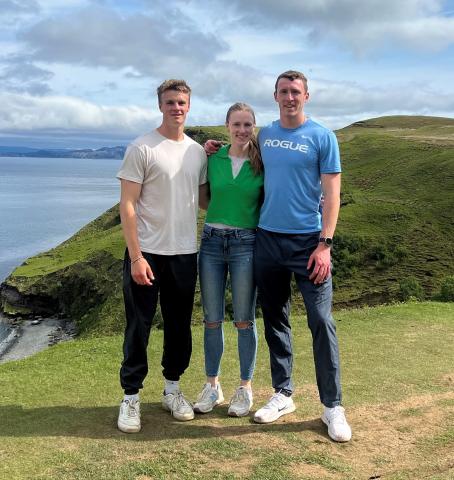 Just as I begin my career in service of my country as an officer in the US Navy, I run this marathon in service of and as tribute to my family, the resilient survivors continuing to fight, the dedicated researchers developing treatments and finding cures, and the unwavering support of families who continue to support all who have been touched by lung cancer. (Thomas, age 23)
I am running the NYC Marathon with my family to highlight the ongoing amazing work that LUNGevity and the scientific community are doing to progress the research and awareness of lung cancer. It is also a lot of fun to attempt this challenge together as a family—I think my grandmother is smiling on us. (Jackson, age 19)
While the journey to combat lung cancer has been challenging, significant strides have been made. Research has led to a deeper understanding of the disease's complexity, resulting in improved treatments and a greater emphasis on early detection. As a result, survival rates have increased, offering hope to patients and their loved ones. However, there's still much more work to be done.
Lung cancer remains the leading cause of cancer-related deaths worldwide. The statistics are sobering, with a five-year survival rate hovering around 20%. While progress is evident, it's crucial to recognize that these numbers underscore the urgency of continued action. Every survivor is a testament to medical advancements, but for every survivor, there are many who continue to battle this disease.
Our marathon run is more than a physical feat; it is a call to action. It is an opportunity to shine a light on lung cancer, to push for more funding, research, and awareness. Together, we can uplift those affected by this disease and help steer the course toward a brighter future.
Lung Cancer by the Numbers
Over 2 million people are diagnosed with lung cancer globally each year.
More people die from lung cancer than breast, colorectal, and prostate cancers combined.
Less than 20% of lung cancer cases are diagnosed at an early stage, highlighting the need for better detection methods.
Running this marathon and raising awareness is not just about our personal journey; it's about contributing to a collective effort that can save lives and alleviate suffering.
As I cross each mile, my thoughts will be filled with memories of my mother's strength and warmth and the countless lives affected by lung cancer. With each step I take, I'll be running not only for her but for all those who've been touched by this disease.
The progress made is promising, but the finish line is still ahead. Let's come together, raise our voices, and continue the journey toward a future where lung cancer is no longer a leading cause of suffering and loss. Your support, your action, and your commitment can help us achieve that vision.
Support the teams running for Team LUNGevity in the TCS New York City Marathon.
About Team LUNGevity Powered by Daiichi Sankyo
Each year, hundreds of athletes represent LUNGevity Foundation at endurance events across the country and add meaning to their miles by raising funds and awareness for lung cancer. LUNGevity is partnered with some of the most sought-after races in the world, including the Bank of America Chicago Marathon, the TCS New York City Marathon, and others.
In addition to guaranteed race entry, Team LUNGevity participants receive benefits such as free race registration or complimentary marathon training for select events, their choice of team apparel, invitations to our race weekend events, on-course support on race day, and opportunities to connect with a dedicated and passionate community. Outside of our Official Charity Partner events, Team LUNGevity participants have the flexibility to choose their own event (any distance, any place, any time) through our Bring Your Own Bib (B.Y.O.B.) program and set their own fundraising goal.