Team LUNGevity attracts experienced athletes, newcomers, and everyone in between.
 Many run, bike, or swim in honor or in memory of someone diagnosed with lung cancer, but lung cancer patients and survivors participate as well. Randi Young and Sharon Schneider are living with lung cancer and have recently completed their first races with Team LUNGevity. Both women have their own history with the sport, but each has found healing and renewed satisfaction by achieving their goals with Team LUNGevity.
---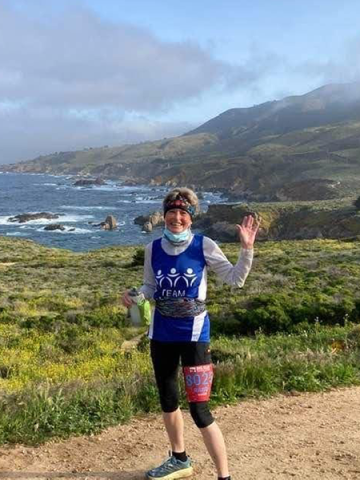 Randi Young, of South Fork, Colorado, began running at age 31 and eventually turned her passion into a career as an ultramarathoner in the 1980s and 1990s. She returned to racing in 2016 and has since completed two marathons, several 50 and 25-mile races, 50Ks, and the Imogene Pass Run 3 times.  Randi received a concurrent non-Hodgkin's lymphoma and lung cancer diagnosis in the fall of 2021. Upon recovering from treatments for both cancers, she set a goal of running in the Big Sur International Marathon, a race that she had placed 4th in while competing in 1987.
---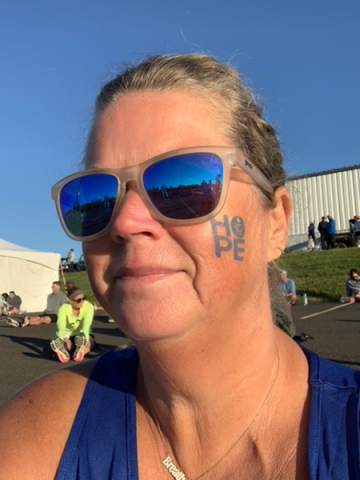 Sharon Schneider of Dallas, Texas, discovered her passion for running in 2010. Before her diagnosis with a rare form of ALK-positive lung cancer in 2017, Sharon had taken part in 7 half-marathons and several 15Ks and 5Ks. Due to treatments and concerns about blood clots found in her brain, Sharon's running was put on hold. However, at the age of 50, Sharon completed her first marathon in June and crossed the finish line together with her husband. 
---
Q: When did you join Team LUNGevity, and how did you learn about it?
Randi: I first sought out LUNGevity for peer support. While exploring the website, I learned about Team LUNGevity and found that they were a charity partner with the Big Sur race. I was seriously looking for a goal, and that grabbed my attention right away! I had initially wanted to complete the full marathon but decided to adjust the goal to the 11-Mile event.
Sharon: I support the Go2 Foundation locally in Dallas and have participated in their races and 5Ks. I knew that most races had a charity partner, and previously, my group of running friends fundraised and ran the Chicago Marathon in my honor. I was interested in Grandma's Marathon, and once I saw that LUNGevity was a charity partner with the race, I knew that Team LUNGevity would be a good fit.
Q: What role does running or athleticism play in your life?
Randi: I began smoking when I was 17 or 18 in college and continued until I was 31. I grew up in a household where my mother and father smoked, so it was natural. On April 15, 1984, I decided I didn't want to smoke anymore. The next day I went for a run. That's how I kept reinforcing my need to quit. I didn't have another cigarette after that. My running went from 0 to my first 10K in a month and a half. I ran my first marathon that year, and within three years, I had completed my first 50 and 100-mile races. My passion led me to ultramarathons and competing professionally. In my late forties, I discovered ski racing and began focusing my time and attention on that sport. I went on to win several gold medals in my age division at the National Championships. My sanity is connected to the outdoors. I've suffered from depression most of my life and have used the outdoors, nature, and exercise as my medicine.
Sharon: For me, training and running in this race gave me a piece of my life back. Before lung cancer, I was a member of several running clubs and had created amazing friendships. I ran multiple times a week, and my husband and I would take weekend trips so that I could participate in races.  When I was diagnosed with cancer in April 2017, I was told to stop running. I put everything on pause. I had always been very healthy, and lung cancer had never been on my radar. Later that year, I was diagnosed with blood clots in my brain. My doctors told me that I could not exercise. I was homebound for three months. During this time, my doctors found that cancer had also spread to my brain, and I began an oral chemotherapy regimen for about two years with additional treatment since. While in treatment, exercise was the least of my worries. Once I was doing better, I started an exercise program with other cancer patients, but I was the youngest one there. It wasn't a good fit for me, and I wasn't feeling motivated. This may sound silly, but I was inspired to begin running again after watching an episode of Dr. Phil. He had told his guest to "take one step."  He explained that in a year, we could be in the same exact position because we didn't do anything, or we could be however many steps ahead than we were on the first day. I kept thinking about that. I finally talked to my husband and shared that although it's maybe stupid, I really want to complete a marathon.  He agreed to train with me and sign up too. Training for this goal has really given me my life back. 
Q: As a lung cancer survivor, has your training or experience racing changed since your diagnosis?
Randi: Oh, yes. My training, or "outdoor adventure time," was greatly curtailed following my lobectomy in September of 2021.  After the surgery, I'd gradually been increasing my time and hiking altitude but found myself further weakened as I started taking a targeted therapy. That and the infusions for lymphoma set me back. However, I managed to hike/jog 11.25 miles while training here in Colorado (at 8500'), so knew that I'd be able to go the [same] distance at Big Sur. Roaming the Colorado hills is where my heart sings. I just celebrated my 70th birthday, and my friends can't believe I'm still out skiing, jogging all these miles in the hills, and solo backpacking. It all comes down to listening to your body.
Sharon: The biggest thing is that I am not running anymore. My lungs and my knees can't take it. I do a light jog now, but in many ways, my training hasn't changed that much. I still get out and jog three days or more, and I cross-train with bike riding. The main difference is that I don't have the same stamina, and I'm not running full out anymore.  
Q: What advice would you give to someone considering running with Team LUNGevity?
Randi: My advice to survivors is to find an event that suits your conditioning. Don't disappoint yourself by over striving at this point in your life. Take it slow and easy. Consult with your doctor and ensure that they approve of the exertion you're doing. Running, or jogging in my case as part of Team LUNGevity is so much more than the event itself.  The fundraising aspect brought me great joy as so many friends and family made donations. Meeting fellow team members and finding a supportive community is just as wonderful.
Sharon: Just do it! What I've found is that a lot of your friends want to help, but they don't know how. Fundraising isn't that hard because the people around you will likely want to contribute in your honor. It's a lot easier than you'd think it is. I made several posts on social media and sent letters to my friends and family that aren't online. I explained what LUNGevity does and how critical research is.
Inspired by Randi's and Sharon's stories? You can channel their grit and determination by signing up with Team LUNGevity! Join one of our Official Charity Partner events like the Big Sur International Marathon or Grandma's Marathon, or pick your own event and fundraise through our Team LUNGevity B.Y.O.B. (Bring Your Own Bib) program. Find out more here or email teamlungevity@lungevity.org.