In fall of 2012, the TCS New York City Marathon was canceled for the first time in the race's history because of Superstorm Sandy. Jack Rogers had spent months preparing for the race, all while receiving treatment for non-small cell lung cancer, but sadly passed away only a few weeks after the original race date. Now, 10 years later, his children, Maggie and Jack Jr. are finishing the race for him.
This will be Maggie and Jack's first time running with Team LUNGevity, as well as their first marathon. Inspired by their father's commitment to LUNGevity, and the recent lung cancer diagnoses of two family friends, completing the race with Team LUNGevity is significant for the siblings. The pair have been training and fundraising for months, and their efforts will culminate on Sunday, November 6 when they take to the New York City streets in one of the nation's most storied road races.
When asked what running in her father's memory meant to her, Maggie shared this sentiment, "It is tough to put into words. You never forget about the people you lose. Every day when I put on my running shoes, I think of my dad." The experience of training for the marathon has been challenging and has caused both Maggie and Jack Jr. to reflect on what their father's training may have been like. "When you are on a long run and wheezing it evokes a sense of how my dad may have felt during his training, although for him I know that it must have been so much harder with one lung. It's cool to feel closer to him and his memory," said Jack Jr.
Both siblings have found that establishing routines and finding motivation have kept them on track with their training. Jack Jr. shared that sticking to his regimen and meeting daily distance goals has helped him stay motivated. Maggie agreed and added that although she first tried to compartmentalize and get lost in the run, she now uses her thoughts of her dad as motivation when the going gets tough. Maggie offered this advice to others running with Team LUNGevity, "Whatever made you choose LUNGevity, use that as your motivation. Use the memory of your loved one as fuel to keep going."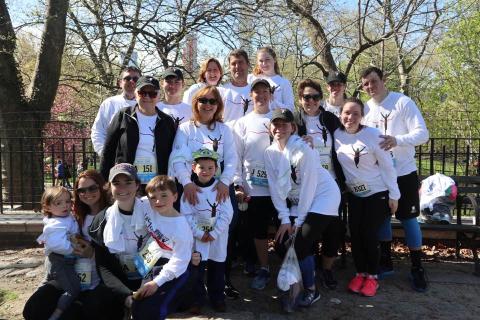 Maggie and Jack Jr. have a big goal for the day – for their grandmothers to watch them cross the finish line. They also hope to join family and friends after the race to reminisce about their father. LUNGevity Foundation was important to Jack Sr., and the pair have charged past their fundraising goal. According to Jack Jr., "The last couple months of our dad's life left a big impact on us and LUNGevity was there for a lot of it – it's special now to be giving back to the organization in this way." The Rogers family is heartened that each passing year brings new advancements in lung cancer research, with Maggie sharing "I have seen firsthand how much progress has been made since my dad's lung cancer journey a decade ago, and I know that is in large part due to the hard work of organizations like LUNGevity. It is so encouraging to know that all the dollars donated do translate into better odds for patients and extra days and even years with their loved ones."
You can visit Maggie and Jack's webpage to read more about their story. Interested in running with Team LUNGevity? Learn more here, or email teamlungevity@lunevity.org. We wish the Rogers siblings the best of luck and will be cheering them on, with the rest of our Team LUNGevity runners, on November 6, 2022.