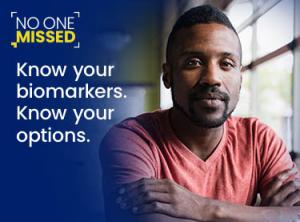 Comprehensive biomarker testing provides important information about your specific type of lung cancer.
Learn more at our No One Missed page to see if testing could benefit you.
LUNGevity offers educational materials and support services to make a lung cancer diagnosis easier to understand for patients, caregivers, and advocates.
The resources below cover all parts of the lung cancer journey. Find out more about lung cancer screening, available treatment options, and the impact biomarker testing and clinical trials can have on a lung cancer diagnosis.
Materiales disponibles en español
For Healthcare Professionals
Use this order form to get free printed materials for your patients.
For Patients, Caregivers, and Advocates
Every lung cancer journey is different, but these materials are designed to give you more control over your diagnosis and treatment plan. If you need help managing emotions or navigating financial challenges, the free Lung Cancer HELPLine offers additional support for your specific needs.  
Download the free materials in the sections below to reference in the future or share with others.