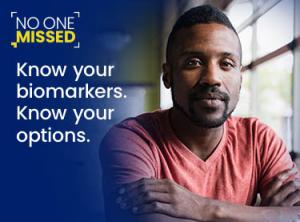 Comprehensive biomarker testing provides important information about your specific type of lung cancer.
Learn more at our No One Missed page to see if testing could benefit you.
LUNGevity has materials available to help you learn about lung cancer, raise awareness in your community, and find out about our vital services and support for lung cancer survivors and their loved ones.
Our Patient Education Series offers 12 comprehensive booklets, written and illustrated clearly to help patients understand their diagnosis and treatment options. Available titles cover each type of lung cancer, NSCLC staging, clinical trials, biomarker testing, and various treatment types.
Tri-fold brochures are available for lung cancer stages and treatment options, as well as our support services.
Materiales disponibles en español
For Healthcare Professionals
Booklets and brochures are available at no charge in quantities of 25 or more. See the order form for details.
For Patients, Caregivers, and Advocates
If you are a lung cancer patient or caregiver, you'll find the facts you need in easy-to-understand language to help you be your own best advocate in your healthcare at this critical time. Our booklets and brochures can be downloaded and printed at home for your convenience.
Advocates interested in distributing print materials in their community or to their local clinic can make requests for materials through their LUNGevity contacts.
Click on a title to download the document as a PDF:
Comprehensive Booklets
About detection:
About types and stages of lung cancer:
About testing and treatments:
You may also order our brochures in quantities up to 25 if you would like to distribute them to to support groups or providers.
For Healthcare Providers
Our publications are ideal for helping you educate your patients about their diagnosis or treatment. Quantities of the booklets and brochures may be ordered through the order form linked below.