In March 2023, Marlys Carlson was diagnosed with stage IV non-small cell lung cancer. This news was a total shock and absolutely heartbreaking for her and her family. Steph, Marlys' daughter, immediately started looking for ways she could help her mom.
"I'm pretty good with research as that is part of my job, so I spent time on the internet looking for anything and everything I could find as a resource. That's when I came across LUNGevity," said Steph.
Attending HOPE Summit
After following LUNGevity's social media pages, Steph learned about the HOPE Summit survivorship conference and saw it was taking place in Washington D.C. near where she lived. The timing and location felt perfect. Unsure if her mom would take her up on the invitation to travel so soon after her diagnosis, Steph asked anyway. She was able to convince Marlys to fly out to D.C. from their family home in Iowa, stay with her, and attend HOPE Summit together.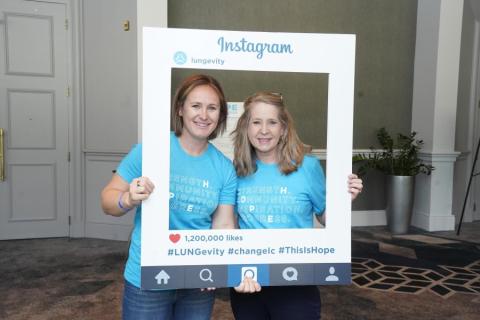 "After the shock of the diagnosis in March, attending the conference barely two months later and meeting so many lung cancer survivors who are doing well with their treatment was great timing. We enjoyed the different sessions with doctors, medical experts, and therapists, and hearing from other survivors. The inspiration and education provided us with a lot of hope," said Steph.
Joining Team LUNGevity powered by Daiichi Sankyo
While walking through the Patient Resource Fair during HOPE Summit, the booth advertising LUNGevity's endurance program, Team LUNGevity powered by Daiichi Sankyo, caught Steph's eye. Steph, her brother, Brandon, and boyfriend Tim Couser are all avid runners.
"Brandon had been talking about wanting to run Grandma's Marathon in Duluth," said Steph, "He heard it was a good race and was hoping to run there and qualify for Boston, plus, it's not far from our home in Iowa. But, it was sold out. I saw Grandma's Marathon listed on Team LUNGevity's race calendar and asked about the team there. It was such a God moment. Brandon had been wanting to run there and now had the opportunity to do it."
The deadline to register with Team LUNGevity was open for just one more day. It was the perfect coincidence. Steph called Brandon, who jumped at the chance to do the marathon. She also called Tim, who had run Grandma's Marathon in 2022. He was willing and excited to do it again. Steph decided to participate in the half marathon option on the same day. The three were excited to do something they love and put it towards a good cause that Marlys could benefit from. Team Mini Mighty Marvelous Marlys was born.
Running at Grandma's Marathon
After a pre-race lunch to fuel up for the run and connect with other Team LUNGevity athletes on Friday, Steph, Brandon, and Tim each ran their races on a gorgeous summer morning in Duluth on Saturday, June 17, with their parents, Marlys and Greg, cheering them on.
"It was a really nice time to be together. I live in D.C. and Brandon is in Hawaii, so we don't get to be together as a family often. And luckily Mom was feeling good! It was a great weekend and means more than could ever be put into words," said Steph.
For all three, running for a cause provided them with so much purpose. Their advice is to 'remember your why' as you're training and running the race. You're going to be done in a mile or 10, but your family member will continue the difficult navigation of their lung cancer diagnosis for life.
Raising Funds and Awareness
Team Mini Mighty Marvelous Marlys raised $21,667 in just over a month. When asked about their incredible fundraising, Tim said, "I struggle with asking for donations without showing my efforts. I was willing to put in the miles if generous donors were willing to support the cause. Most people are affected by cancer somewhere in their family history, and they don't hesitate to donate. It's so humbling to see people donating to support cancer research. I believe it's what we're called to do, to help others. This is only one small way to help progress healthcare and cancer research initiatives."
Brandon added, "Have no shame in asking your family and friends. They love you and love to help."
Marlys became emotional when talking about the money the team raised. Steph said the fundraising success really showed how much people love her mom. The team hopes the money will lead to research and early detection efforts. They want to end the stigma and find a cure.
Through her work in the United States Senate, Steph sees a lot of advocacy and policy related to other cancers. "We need more for lung cancer," she said, "It's funded at such a low level compared to others."
Having Hope
Through their experience at HOPE Summit and as part of the lung cancer community, they've seen others that are doing well, providing them with much-needed hope. They also put their trust in their faith for Marlys to be carried through.
For Steph and Brandon, it's their mom's positive attitude that gives them hope. As Marlys says, "I'm in it to win it!"
"We hope that she has many more years with us, and that medical treatments and research will continue to bring forward new and exciting therapies and developments," said Steph, "We just all have to do our part!"
In the meantime, you can find Marlys spending time with her family and Lilibet, their new English Springer Spaniel. Shortly after coming across a brochure about pet therapy at the Mayo Clinic, a friend's family posted about an available litter. "It's not a coincidence she's meant to bring joy to us," wrote Steph on her Instagram.
Thank you to the Carlson family for sharing their story and raising funds and awareness for lung cancer and helping spread hope to others in the lung cancer community.
More Incredible Fundraising Stories: