LUNGevity offers many ways for you to connect with other people who have been affected by lung cancer.
Whether you are a person with lung cancer, a caregiver, a caring friend or family member, or a health care professional, there are resources here to make you feel more connected.
Join the Lung Cancer Support Community

LUNGevity's Lung Cancer Support Community is the largest online lung cancer support network, providing users with an extensive message board including the latest lung cancer information and notices of lung cancer events and advocacy opportunities.
Connect with One of Our Facebook groups

Are you on Facebook? LUNGevity has personalized groups for patients/survivors and caregivers. Find someone who shares your experience. We have individual groups for lung cancer types, lung cancer mutations, and caregiving. (You must be logged into your Facebook account to view the list of groups.)
Read Our Community Blog

Here you'll find the voices of LUNGevity's constituents: people with lung cancer and their loved ones, caregivers, scientists, event coordinators and participants, and anyone else who's interested in our progress in reducing lung cancer's mortality rates.
Get or Give Support Through LifeLine

Our LifeLine Support Partner program gives people with lung cancer or their loved ones a one-on-one personal connection with a lung cancer survivor, family member, or caregiver.
Find out how you can get a LifeLine partner — or be a partner.
Watch Our Survivor Stories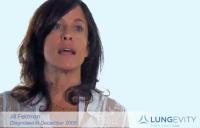 There's nothing more powerful than hearing stories of living with lung cancer straight from survivors themselves. In this video series, survivors at different stages of the disease talk about the reality of receiving a lung cancer diagnosis, and their quiet strength will inspire you.