I was diagnosed with lung cancer in July 2020. I was stage IV non-small cell adenocarcinoma with metastases in my lymph nodes.
My diagnosis was devastating. I was experiencing such severe physical symptoms, such as intense coughing to the point of coughing up blood, that I wasn't sure I would ever be able to lead a normal life again. It felt like everything was coming to an end and I would never be able to achieve my dreams.
I initially received a combination of immunotherapy and chemotherapy because of my high PD-L1. After one cycle, though, we received the results of my biomarker test and learned I had the RET mutation. Luckily, there was a clinical trial available for people with RET where I live in Hong Kong, so I stopped the immunotherapy and joined that.
At first, the clinical trial drug was very difficult to tolerate. After the first month, the side effects were so severe that we came close to pulling me off the trial. By some sort of miracle, my body adjust to it at the very last minute and I was able to stay on the drug.
I have spent the last year on the drug, and I am doing well. I credit it for saving my life as I have had a significant partial response. I am now feeling better than ever and my life has returned back to normal with a stable disease.
I have been so lucky to achieve so many of my dreams, even after my diagnosis. I am a musician and composer. After my diagnosis, my band ROOT won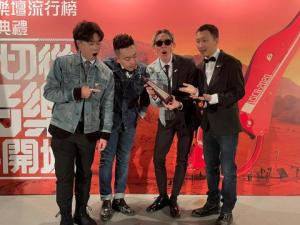 2nd place award in the 903 Ultimate Song Chart Awards Presentation's Best Emerging Artist, a prestigious music award from Commercial Radio Hong Kong, one of Hong Kong's two commercial radio broadcasting companies.
I was also honored to receive a Certificate of Commendation by the home Affairs Bureau in Hong Kong for my long-term dedicate to the promotions of Art and Culture. It has meant so much to me to achieve these things when I wasn't sure what my life would look like after my diagnosis.
In the early dates of my diagnosis, it was difficult to remain hopeful and positive, particularly with the severe physical symptoms and side effects I faced. Luckily, I had the support of friends and family and an amazing oncologist, who also has a great sense of humor. This, plus finding the clinical trial, truly sustained me and helped me get where I am today.
If you are newly diagnosed, my best advice is to allow yourself to be sad, at least for a couple days. When you face the emotions, you can slowly accept what is happening to you. I also recommend you stay calm and look for the best test and treatment options for you, and I highly recommend getting a second opinion.  
Even after a cancer diagnosis, you can live a high quality life and achieve great things. Today, I stay physically and mentally healthy by doing yoga, exercising daily, eating a healthy diet, and taking care of my mental health.
I also do things I love and try to give back. I am currently curating a major jazz and mindfulness festival and providing music for mindfulness events for cancer-related support organizations.
I hope that my drug will stay effective for as long as possible. But for now, I focus on feeling good and healthy and I cherish life, day by day.
Related Reading:
---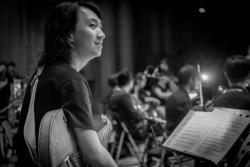 Teriver Cheung is an award-winning jazz guitarist, composer, and curator in Hong Kong. He has frequently collaborated with musicians including Grammy Award winning artist Billy Childs, Eddie Gómez, Keita Ogawa, and Eric Marienthal. As the leader of his ensemble, he tours with his group and appears at major music festivals such as Jazz Marathon for the International Jazz Day, Jazz W Ruinach Festival (Poland) and Taichung Jazz Festival.