Dial 844-360-5864, Monday through Thursday, 10:00 am to 6:00 pm, and Friday, 10:00 am to 5:00 pm (Eastern time). Call as often as you need—LUNGevity is here for you with tools to help you navigate your lung cancer diagnosis.
Call to talk with an oncology social worker for help with:
Better understanding lung cancer and its treatment
Learning new ways to cope with lung cancer
Managing emotions such as anxiety or sadness
Improving communication with your healthcare team
Talking to your family about lung cancer
Finding reliable information
Finding useful resources in your community
Managing financial challenges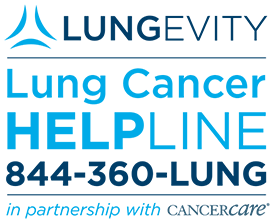 LUNGevity understands that a lung cancer diagnosis can be overwhelming.
To answer your questions, the Lung Cancer HELPLine offers toll-free, personalized support for patients and caregivers at any time along your lung cancer journey. Our oncology social workers are available to help you manage your emotional, financial, and support challenges.
You can receive referrals to financial assistance resources for needs including pain medication, homecare, childcare, medical supplies, transportation for treatment, and copayment assistance.
Charitable funding for the HELPLine was generously provided by Bristol-Myers Squibb Company and Genentech.