After battling a persistent cough for six months, I went in for a chest x-ray. This was July 2020, right in the thick of the pandemic, which is why I put off going in for so long. After nothing we tried seemed to help the cough, though, I knew it was time to figure out what was going on inside my lungs.
Four days before going in for the in-person doctor's appointment, I lost my job and potentially my career due to COVID. While still grappling with that loss, I got the results of my x-ray and learned I had stage IV lung cancer. I was already reeling from the loss of my career and the dreams that might have to be put on hold because of it and now I had to deal with cancer? I couldn't help but think, what happened to my life?
Prior to my diagnosis, my husband and I had been preparing for a big move. We lived in Baltimore, but I was interviewing for jobs in Austin, TX. We wanted a fresh start. After I lost my job and received my diagnosis, it felt like these dreams were snatched away from us.
Scans showed a tumor in my right lung. Later, we learned the cancer had also spread to my brain and liver.  My doctor performed biomarker testing and discovered I had the EGFR mutation. Because of this mutation, I was able to take a targeted therapy pill called Tagrisso.  Tagrisso was able to remove the liver metastasis and I had one treatment of stereotactic radiation to deal with the brain.
There were so many "what ifs" during that time. What if my husband's insurance didn't accept me because of my pre-existing condition? What if the Tagrisso didn't work? What if I was unable to work again? What if we had to stay in our old house and neighborhood long-term? What if we don't have the chance to start over and make our lives better?
All our visions for the future felt unreachable. I felt frozen. I didn't know what to do next. It felt like I had to wait for my doctor to give me permission to do anything. I wanted someone – anyone – to tell me what you could and could not do with cancer.
Luckily,
the pill worked. Once I started taking it, I started feeling better. I realized I didn't want to sit around waiting for permission to do things. I was going to live, and I needed money to do that.
I found a new job in my industry and started working. It felt good to be back and to be feeling good. Our quality of life began to improve.
Then, in October, just four months after my diagnosis, we bought a new house in a better neighborhood. This was the biggest leap of hope we could take. While it's not Austin, TX, the house is in the neighborhood we wanted to be in, I still have access to my treatment center, and my family is close by. These things are what matter now.
Recently, I was able to get my dream job. It was a dream I had put away because of my cancer diagnosis, but I was finally able to do. It's scary, because it's a big change and I need to start over with insurance, and there's always the fear of progression happening, but it's important. We need to keep living life and ensuring we work towards our own happiness, even with cancer.
I don't think I would be doing as well today if I had decided to stop pushing myself to do things and live my life. I do have some side effects from my treatment, such as skin issues, heartburn, diarrhea, fatigue, and headaches, but those come and go and I've found ways to alleviate most of them. While this isn't the life my husband and I were expecting when we were dreaming of our big move, we're happy. We had to adjust our goals, but didn't let that stop us from achieving them.
Today, I am working on taking back my health. I want to start working out more and rebuild my stamina. I also want to focus on my inner strength and mindfulness. It feels good to be able to focus on these things after a year of focusing on such life changing things.
I don't think about myself as a person with cancer. Cancer is always there and always on my mind, but I don't let it stop me from doing anything – I stay active, I enjoy time with friends, and I try to live a good, happy life.
Just because you have cancer doesn't mean there is anything that can stop you from living your life. It might slow things down, but your dreams don't need to disappear. They might be packaged differently, by they're still there for you to achieve.
Related Reading:
---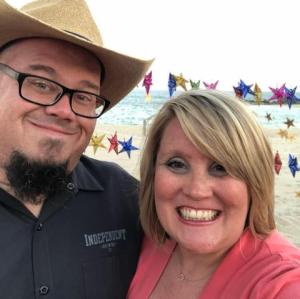 Melissa King is a 45 year old wife, daughter, sister and friend.  She works in convention sales for the hotel industry where she enjoys a passion for meeting new people and traveling to new destinations as one of many job perks. She shares her story in the hope that someone else who is recently diagnosed can hear the words of support she most needed when her world felt like it was disappearing around her.  Melissa enjoys spending time with husband and four-legged kids, enjoying a good dinner with friends or getting out and experiencing the beauty of life any way possible.