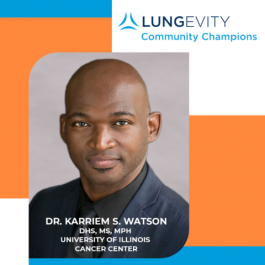 Karriem Watson, DHSc, MS, MPH, is  LUNGevity Foundation's first Community Champions recipient. He sat down with LUNGevity to discuss his career path, his passion for community engagement, and disparities in healthcare.
Tell us about your role within your organization. What led you to your current career path?   
I am fortunate to serve in two key roles at the University of Illinois at Chicago (UIC). I am the Associate Director of Community Outreach and Engagement for the University of Illinois Cancer Center. I am also the Associate Executive Director of the Mile Square Health Center, which has the distinction of being one of only a handful of Federally Qualified Health Centers (FQHCs) in the United States that has a direct affiliation with an academic medical center. Started in 1967, Mile Square is also one of the nation's oldest community health centers.
My passion and commitment to serving communities are what led me to my current career path. When I moved to Chicago more than 18 years ago, I was uninsured when I first received health care at Mile Square. Now, it is a full-circle moment that I am in a leadership role for the organization.
Like so many, I have had personal experiences with family members who were impacted by cancer.  I lost my parents and now a brother to complications from cancer. It's an honor and an obligation to conduct cancer research to improve outcomes for the communities I serve. 
What are some of the unique challenges that you face in your work?
There are always unique challenges that many scientists face who are committed to addressing health disparities. Right now, one of the biggest challenges is the COVID-19 pandemic, which has revealed social inequities, structural racism, and growing health disparities.
The pandemic has caused a significant strain on community-engaged research. Too many people have postponed early detection exams or not had access to prevention services. Furthermore, the pandemic has created social inequities that have resulted in higher stress levels, affecting the smoking cessation efforts of many community members.
You recently accepted a position on LUNGevity's Health Equity Council. Why was this opportunity important to you? What do you want others to know about the ongoing problem of health disparities in society?
The mission and vision of the Health Equity Council align with my own personal and professional values. I wanted to join the council because I recognized how we could wield collective power in addressing some of the real-world issues affecting vulnerable communities.
I was also impressed with how the diversity of our team reflects the demographics of our country right now. This thoughtful approach ensures that everyone will have a seat at the table.
Regarding the ongoing problem of health disparities, we must realize that solving these issues will take both a holistic and collective approach. I also want people to know that these medical disparities often intersect with other inequities within our society.
What are some areas of opportunities that exist for improving inequities in lung cancer care?
Some exciting opportunities exist for improving lung cancer inequities right now. I am particularly excited about the evolution of precision medicine, including immune-oncology and molecular-targeted therapy. However, we must ensure that all have access to innovative and cutting-edge treatments.
Without proper outreach and engagement, we run the risk of widening inequities in medically unprotected populations—particularly when it comes to clinical trials. The great news is that more organizations are committed to addressing these disparities so that everyone has access to quality health care.
What gives you hope about the future of lung cancer care?
One of the things that gives me hope about the future of lung cancer care is advocacy and research organizations like LUNGevity.
The future of lung cancer is much brighter because the right people are taking bold moves to ask tough questions, engage multiple community and academic stakeholders, and foster innovative research. The focus on diversity and inclusion also makes me optimistic, as it ensures that underrepresented groups are present at all stages of the research process— from the young scientist to the subjects in clinical settings.
 
Related Reading:
---

The job of bridging gaps caused by healthcare disparities falls to community leaders who, through advocacy, education initiatives and targeted medical intervention, work to meet the needs of the most vulnerable populations. LUNGevity's Community Champions program identifies and shines a light on community leaders whose work in engaging vulnerable communities with lung cancer programs can inspire others.