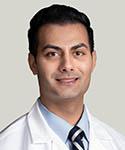 Lung cancer continues to be the number-one cause of cancer deaths in the United States. In the past decade, we have seen great improvements in the treatment of metastatic lung cancer with targeted therapies and immunotherapy.
"When targeted therapies aren't an option, the current standard of care for patients is immunotherapy alone or in combination with chemotherapy. But many patients don't respond to these treatments the way we'd like them to," said Sean Pitroda, MD, assistant professor of Radiation and Cellular Oncology at the University of Chicago. "Our standard treatments do improve survival and they help alleviate symptoms, but our patients are not cured."
"Ever since I was training as a radiation oncologist, I wanted to figure out how to move the needle and cure metastatic non-small cell lung cancer (NSCLC)," he recalled.
Dr. Pitroda began working toward this goal by studying metastatic tumor cells to determine which cells were more likely to respond well to treatment. In 2018, his team of collaborators found a subset of metastatic colorectal cancers with limited liver metastases, initially thought to be incurable, were responsive to localized treatment if the tumors displayed a specific immune-activated state.  
"I'd also seen data showing that radiation can activate the immune response in tumors," noted Dr. Pitroda. "I wanted to combine radiation with immunotherapy and see if I could induce a similar immune activated state in metastatic lung cancer to improve outcomes for patients. We tested two different options in the phase 1 COSINR study: radiation before immunotherapy and radiation during immunotherapy."  
After completing the phase 1 clinical trial, Dr. Pitroda and his team confirmed that treating patients with radiation during immunotherapy was safe and likely to be the most effective for patients with metastatic NSCLC. This result was exciting for Dr. Pitroda and his team, but also perplexing. Many other clinical trials were also testing the addition of radiation to immunotherapy, but none of them demonstrated a significant benefit for patients.
"I realized that this difference in results was because we were not asking who needs this therapy," said Dr. Pitroda. "My hypothesis was that a subset of patients would see the benefit. Favorable results were not being seen in prior studies because they were looking at a heterogeneous group of patients."
Because the response Dr. Pitroda had seen in the phase 1 clinical trial needed to be studied further, he applied for and was awarded the 2020 Career Development Award from LUNGevity Foundation. With this support, he was able to look closely at the data and identify underlying molecular features of tumors that correlated with positive outcomes for patients treated simultaneously with radiation and immunotherapy.
Through this work, they discovered several key findings, including a specific genomic alteration -- an important biomarker -- that correlated with patients successfully being treated with immunotherapy and radiation.
"This work was very important because right now there are over 500 clinical trials that combine radiation and immunotherapy -- but no one knows the best way to combine them or who will benefit the most from this approach. Our research could help lay the framework for how we should be thinking about radiation and immunotherapy combinations."
These findings are under review in Nature Cancer, a highly respected peer-reviewed academic journal, and they are likely to become the foundation for Dr. Pitroda's applications for federal grants for years to come.
"The LUNGevity Award was critical in doing this work," Dr. Pitroda acknowledged. "It's really going to be a seminal finding that will shape the way that radiation oncologists, and oncologists in general, think about combining radiation and immunotherapy."
Dr. Pitroda plans to work with collaborators globally to advance the way we treat patients with lung cancer. He is passionate about continuing to use tumor samples from patients to understand how to optimize and personalize therapies.
"Hopefully, one day, we'll find an approach that combines molecular biomarkers with radiation and immunotherapy to cure patients who were initially deemed incurable," he said. "We still have work to do, but cutting-edge, effective radiation-immunotherapy treatments are going to get us a step closer to improving outcomes for patients with metastatic NSCLC."