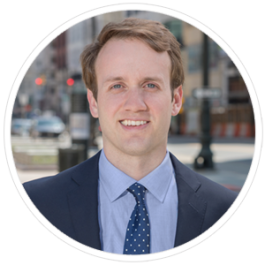 Mike Ilitch III, of metro Detroit, MI, is currently fundraising on behalf of LUNGevity.  He  competed in the 2019 Detroit Marathon in the hand cycle division at the end of October. Mike was introduced to LUNGevity through good friends. He continues to fundraise and compete to support those friends and all affected by lung cancer.
Outside of training for the marathon, Mike works in commercial real estate in downtown Detroit and loves all the state of Michigan sports - especially college football (go Green!), Lions, Red Wings, Pistons and Tigers. 
What inspired you to participate in this Team LUNGevity endurance event?
I have participated in the Detroit Marathon with Team LUNGevity for 3 years. I am motivated by everyone affected by lung cancer. I am inspired to raise awareness and donations for the organization. 
Why did you choose to fundraise for LUNGevity in particular?
Our family became immediate supporters of LUNGevity the moment we learned about the organization. We have attended Breathe Deep events in our community in support of our wonderful friends/neighbors. We support the Team Riga efforts yearly.  But I have been racing in the Detroit Marathon for the past three years. I donate, fundraise, train and compete to support LUNGevity and eventually see a world with complete survivorship of lung cancer. 
What are your goals? (Fundraising, raising awareness, finish under a certain time, complete your first race, etc.)
We have monetary goals to help provide the necessary resources for research and early detection measures. Our family has donated and fundraised nearly $20,000 in the past three years. This year, my brother joined the fundraising efforts and completed the Traverse City triathlon in support of LUNGevity.
Additionally, it is equally important to our family to do everything we can to support our friends.  A cancer diagnosis can be such an isolating and private experience. Joining such a wonderful cause is a simple way to show our love and continued support for them.  
How do you think participating in a Team LUNGevity endurance event can help raise awareness for lung cancer?
The most shocking thing about lung cancer is the disparity between prevalence, funding, and awareness.  The majority of those with lung cancer are nonsmokers, which leads to a devastating underfunding and unwarranted stigma. This inequity inspires me to support LUNGevity's research, purpose and cause. 
What impact do you hope your fundraising efforts will make?
LUNGevity is the champion that lung cancer advocacy needs. My family and I are proud to be aligned with such a great organization that fills such a glaring gap with lung cancer awareness, support, research and hope.
You can support Mike's personal campaign by checking out his fundraising page.
---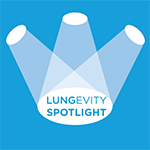 LUNGevity Spotlight is a way to highlight people living with lung cancer, caregivers, volunteers, and fundraisers who are making a positive impact in the LUNGevity community. We hope that their stories will inspire and encourage many more to get involved.
If you know someone in the LUNGevity community whom you'd like us to Spotlight, please nominate them here.