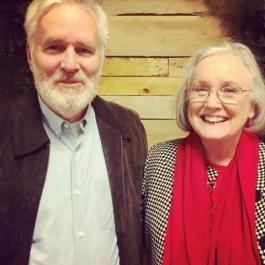 Rose Vining was initially diagnosed with lung cancer in 2011; she had two recurrences in the 5 years after her diagnosis. Over the years, she had several treatments, including two surgeries which resulted in the removal of her entire left lung, chemotherapy, SBRT radiation therapy, and, after her recurrence in 2016, more radiation, which left her with ¾ of a lung to breathe with.  Rose feels fortunate to be cancer-free now, but these treatments exasperated some of Rose's pre-existing conditions; the foods she eats now have a huge impact on how she feels physically.
Rose has found Ina®, Your Personal Intelligent Nutrition Assistant, to be a helpful tool to prevent and manage these issues. Ina®, a free app, offers personalized, evidence-based nutrition support to help patients eat healthy and stay well-nourished throughout cancer treatment and beyond. We sat down with Rose to hear more about her experience utilizing Ina®'s services.   
How has Ina® helped you?
I had GI issues before lung cancer, but cancer made them worse. Whenever I have a flare-up, I turn to Ina® to remind myself what foods might help and what foods might make it worse.
We've also been able to use Ina® to help with my husband's nutrition. He was diagnosed with cancer last year and underwent radiation and chemotherapy, which caused some issues with appetite, dry mouth, and metallic taste. We put my husband's symptoms into Ina® and she provided simple recipes that were packed with nutrition and calories without needing to consume a large quantity of food that would help with the issues he was facing.
What's the best part about Ina® for you?
The convenience. I don't have to go look through a bunch of cook books or try wade through recipes I collected online. I simply input whatever problem I am facing (GI flare-ups, taste issues, etc), and Ina® recommends simple, healthy recipes.  
When you don't feel well, the last thing you want to do is think of something you want to eat or worse, go into the kitchen and cook something complicated. Using Ina®, I can get simple, quick ideas, using ingredients I most likely already have in my kitchen. This has been particular helpful during the pandemic, when I can't just run out to pick up a single ingredient at the store.
Can you share a time Ina®  was particularly helpful for you?
Recently, I was really struggling. I had the second dose of COVID-19 vaccine and was experiencing a few side effects like fever, chills, and aching. Unfortunately, the side effects were compounded by another GI flare-up.  I was miserable and did not want to eat or drink. I was worried I would have to go to the hospital for dehydration.
Luckily, Ina® sends regular check-ins. While I was feeling miserable, I received one of those check-ins, and I remembered I could use this service to get help. Ina® suggested some things to eat and drink and also provided some simple, practical suggestions to recover. Within a few days, I started feeling better. I attribute Ina® to helping me stay out of the ER.
What is your favorite recipe from Ina®?
I have some issues with inflammation, and cherries are supposed to help. Ina® suggested a great, simple cherry smoothie recipe. It's perfect because it requires just a few ingredients that are easy to keep on hand, like frozen cherries, almond milk, and some flavoring like vanilla. It's great for an everyday meal, but is especially helpful when I'm not feeling well.
Final thoughts?
I highly recommend Ina® for cancer survivors. I wish I had it when I was going through chemo, when I had no appetite and nothing seemed appealing. It has been so helpful to my husband during his treatment and to help manage my ongoing issues. I hope you will give it a try!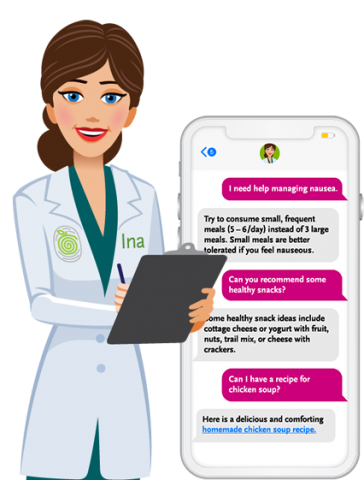 ***
Ina®️, The Intelligent Nutrition Assistant will provide you with answers to your nutrition questions, tips, and recipes to help you make a challenging situation a little bit easier when you are unable to access a Registered Dietitian. Sign up and interact with Ina® and receive personalized clinically and contextually appropriate nutrition support and guidance 24/7 "on demand via SMS texting. Ina® is HIPAA compliant, safe, and secure.
Related Reading: