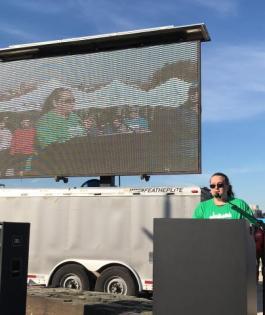 Lisa Hutter was born and raised in New York. She is a 5-year stage 1 lung cancer survivor and committee member for Breathe Deep NYC. She has spoken at several Breathe Deep NYC events. Lisa has been teaching Spanish for 21 years. When not working, Lisa and her husband Kenny enjoy traveling the world and spending time with their dogs Coalie and Max.
How did you first get involved with LUNGevity as a volunteer?
I was diagnosed with non-small cell lung cancer in December 2015. This was found on an x-ray for an unrelated issue. While this unexpected diagnosis shook me to the core, I am blessed and very thankful that it was caught early. I had surgery to remove the upper left lobe of my lung. The first thing that people usually ask me when they find out I was diagnosed with lung cancer is "Did you smoke?" While I have never been a smoker, I started realizing the stigma associated with lung cancer and the negative impact it has on lung cancer funding. I decided that I wanted to do everything possible to raise awareness for lung cancer as well as to give hope to others facing a lung cancer diagnosis.
Can you describe your role as a LUNGevity volunteer?
I am a committee member for Breathe Deep NYC.  Our committee organizes and runs the yearly Breathe Deep NYC walk in Manhattan. For the past several years, I have been in charge of welcoming returning captains as well as new captains and their team members, sending out important information, as well as being a point of contact for participants. Being a lung cancer survivor as well as a committee member has afforded me the rewarding experience of being someone that other lung cancer survivors and their families can reach out to for support and guidance. I have also had the honor of speaking at the Breathe Deep NYC walk on several occasions, which, I am told, has given hope to other lung cancer survivors and their families.
What is the most rewarding thing you get out of being a volunteer?
Volunteering at the Breathe Deep NYC event has given me the opportunity to meet with other lung cancer survivors and their families. Each time I have spoken at this event, I have had fellow lung cancer patients as well as family members of lung cancer patients come up to me and ask for advice or to thank me for helping to give them hope. I cannot truly express in words how grateful I am to be able to give others hope, which is a priceless gift that everyone confronted with a lung cancer diagnosis desperately needs and deserves.
What gives you hope?
LUNGevity has been involved with many clinical trials that has offered new treatments and targeted therapies for those with a variety of gene mutations. Most recently, two targeted therapies for RET-positive lung cancer have received FDA approval. Being that my lung cancer is RET positive, this gives me hope that there will be more options for me should my lung cancer ever return. LUNGevity has also funded many projects aimed at improving the early detection of lung cancer, when it is most treatable. This gives me hope that many more lung cancer patients will join me in becoming long-term lung cancer survivors!
---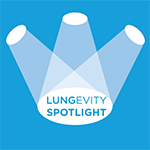 LUNGevity Spotlight is a way to highlight people living with lung cancer, caregivers, volunteers, and fundraisers who are making a positive impact in the LUNGevity community. We hope that their stories will inspire and encourage many more to get involved.
If you know someone in the LUNGevity community whom you'd like us to Spotlight, please nominate them here.