Tina Dormitzer lives in Darnestown, Maryland with her husband and six children.  She has participated in Breathe Deep DC, shared her personal story at LUNGevity's informational session at John Hopkins/Sibley Hospital, and is LifeLine  mentor who also spoke about the program at ILCSC.   Tina was diagnosed with stage 3a NSCLC on December 25, 2017, at the age of 47.  She has undergone radiation, four chemo cycles, and is one of the first patients at her cancer center to complete a full year of Imfinzi/Durvalumab (26 infusions) after it was approved by the FDA in 2018.  Her treatment has been successful, resulting in "stable dead cancer cells."  Tina is the Director of Sales Operations for MarketBridge, a Bethesda-based company that provides enterprise Marketing & Sales teams with market insights, customer targeting decisions, and buyer content optimization to deliver breakthrough performance.  Tina has also written a blog on LinkedIn about her career while battling cancer, which you can read here. 
How did you first get involved with LUNGevity as a volunteer?
I had a wonderful experience with my lifeline mentor through LUNGevity, but at that point when I needed my mentor I was still in the middle of treatment and unsure about my availability to volunteer or where I thought I could best contribute.  Then I heard about the Breathe Deep DC and thought that would be a great first volunteer opportunity.  The event allowed me to get to know other advocates, patients, volunteers, raise money for lung cancer research, and become more exposed to all of LUNGevity's resources.  Most importantly, it was an event that allowed my six children (and other family and friends) to participate and share in a personal cause for me that helped advocate and bring awareness about lung cancer.  It was a very rewarding, which then prompted me to volunteer as a LifeLine mentor and share my story at other speaking events.
What is the most rewarding thing about being a volunteer?
Knowing that my story, mainly expressing my raw emotions, resonates with others.  When I first started sharing my story, I received a lot of positive feedback and people were grateful that I was honest about my fears, thoughts, the stigma, and even talking about some superficial things throughout my cancer journey.  I love hearing that others could relate, especially when I received responses like"I feel the same way," "I thought the same thing but was afraid to say it," and "Thank you for being so honest." It not only comforts them but also helps me know that I am not alone. 
What impact do you hope your volunteer efforts will make?
I hope that, through my volunteering and sharing my story, I could help people individually and help change some of the negative stigma of lung cancer.  My young adult children are actually the ones who lead the way and set this example for me.  When anyone asks them "did your mom smoke," their answer is always: 'Why does it matter?"  Whether you smoked or not should be irrelevant and the focus should be on finding a cure for this terrible disease.  I hope that more and more people will start to see and talk about lung cancer differently and society will stop making assumptions.  No lung cancer patient (or caregiver) should ever feel like they must defend or explain their situation.
What advice would you give to someone who is looking to get involved?
My advice, that is probably cliché,  is to volunteer because it is what you need, not what others need from you. Everyone has their own personal reasons for volunteering and for me it is selfishly about control.  On this journey, I can't control the lung cancer, I can't control my treatment or how my body will react, I can't stop the cancer from spreading or coming back, sometimes I can't even control the doctors' appointments or my own emotions– that is all out of my hands.  But what I can control is how I give back, what I share, how I tell my story, what I teach my children through volunteering, and how much I volunteer and advocate for awareness and research.  There is a sense of comfort and healing knowing that I do control this part of my journey, and that helps me remain positive and strong.
---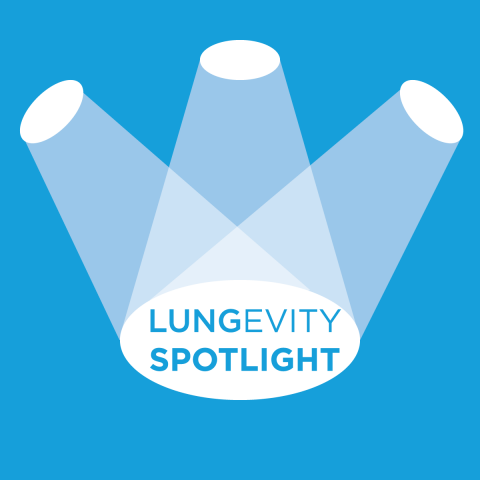 LUNGevity Spotlight is a way to highlight people living with lung cancer, caregivers, volunteers, and fundraisers who are making a positive impact in the LUNGevity community. We hope that their stories will inspire and encourage many more to get involved.
If you know someone in the LUNGevity community whom you'd like us to Spotlight, please nominate them here.