Leah will spearhead several of LUNGevity's early lung cancer initiatives, bringing her expertise in oncology early detection, precision medicine, and multidisciplinary care to the role.
FOR IMMEDIATE RELEASE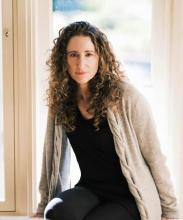 WASHINGTON, DC (May 10, 2023) – LUNGevity Foundation, the nation's leading lung cancer-focused nonprofit organization, is pleased to welcome Leah Fine, MBA, as the vice president of its soon-to-be-launched Early Lung Cancer Center. LUNGevity takes a holistic approach to accelerate early detection and early disease management through research, public policy, health equity, and lung cancer awareness initiatives. Together, these areas of focus translate to earlier detection, diagnosis, and disease intervention.
"LUNGevity has been investing in research to detect early lung cancer for over 10 years, including a significant partnership with StandUp2Cancer and the American Lung Association, to understand what precipitates a normal cell turning cancerous. Our myriad of other efforts, including public policy and regulatory reform and screening awareness, complement our research strategy to ensure all people have access to scientific advancements so we can transform lung cancer," shares Andrea Ferris, president and CEO of LUNGevity. "Leah's extensive experience in program development and patient impact combined with her deep knowledge of lung cancer will expand and enhance our focus on early lung cancer, allowing us to create an even greater impact."
Leah Fine earned her bachelor of science in biology and journalism from George Washington University and later earned her MBA from the Berkeley Haas School of Business. Leah has a background in nonprofit and for-profit settings, where she gained experience in business development, strategic marketing, and program development and implementation in the healthcare space. These experiences provided insight into oncology early detection, precision medicine, and multidisciplinary care. Leah comes to LUNGevity from GO2 For Lung Cancer, where she oversaw the Center of Excellence Program.
About LUNGevity Foundation
LUNGevity, the nation's leading lung cancer organization, is transforming what it means to be diagnosed and live with lung cancer. LUNGevity seeks to make an immediate impact on quality of life and survivorship for everyone touched by the disease—while promoting health equity by addressing disparities throughout the care continuum.
Through research, we use an innovative and holistic approach to finding lung cancer earlier when it is most treatable; advance research into new treatments so people may live longer and better; and ensure a diverse, vital pipeline of investigators for the future of the lung cancer field.
Through advocacy, we foster groundbreaking collaborations to ensure all people have access to screening, biomarker testing, and treatment breakthroughs.
Through community, we educate, support, and connect people affected by lung cancer so that they can get the best healthcare and live longer and better lives.
Comprehensive resources include a medically vetted and patient-centric website, Patient Gateways for specific types of lung cancer, a toll-free HELPLine for personalized support, international survivor conferences, and tools to find a clinical trial. All these programs are designed to help us achieve our vision—a world where no one dies of lung cancer. LUNGevity Foundation is proud to be a four-star Charity Navigator organization.
Please visit www.LUNGevity.org to learn more.
About Lung Cancer in the US
About 1 in 16 Americans will be diagnosed with lung cancer in their lifetime.
More than 238,000 people in the US will be diagnosed with lung cancer this year.
About 60%-65% of all new lung cancer diagnoses are among people who have never smoked or are former smokers.
Lung cancer takes more lives than the next three leading cancers (colorectal, breast, and prostate) combined.
Only 23% of all people diagnosed with lung cancer will survive 5 years or more, but if it's caught before it spreads, the chance of 5-year survival improves dramatically.