Michelle's vast personal and professional experience will help accelerate efforts to increase lung cancer screening
FOR IMMEDIATE RELEASE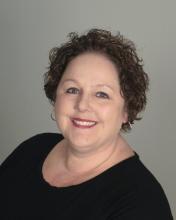 WASHINGTON, DC (January 23, 2023) – LUNGevity Foundation, the nation's leading lung cancer-focused nonprofit organization, welcomes Michelle Futrell, MSN, MBA, RN, as Director of Lung Cancer Screening Programs and Initiatives. In this new role, Michelle will develop the organization's blueprint for lung cancer screening programs, create educational programs for healthcare providers, and directly support patients seeking information on lung cancer screening.
Michelle has a Bachelor of Science in Nursing as well as a dual degree—Master of Science in Nursing and Master of Science in Business Administration. Prior to joining LUNGevity, Michelle worked as a registered nurse, 10 years of which were in the emergency department. She most recently spent eight years at Virginia Commonwealth University as a lung cancer screening program coordinator.
"My personal battle with cancer gives me a unique perspective and has helped me in my current role. When I talk to individuals who may be nervous about having a lung cancer screening for fear of the results, I understand where they are coming from. At the same time, it drives me to want to help educate individuals about lung cancer screening, its purpose, and its importance," says Michelle.
"We are thrilled that Michelle has joined the LUNGevity team," says Andrea Ferris, president and CEO of LUNGevity Foundation. "Her professional experience with lung cancer screening brings invaluable insights and expertise. Michelle will help us accelerate the uptake of lung cancer screening among the eligible population and especially among hard-to-reach communities. Lung cancer screening saves lives."
About LUNGevity Foundation
LUNGevity Foundation is the nation's leading lung cancer organization focused on improving outcomes for people with lung cancer. The foundation works tirelessly to advance research into early detection and more effective treatments, and to ensure that patients have access to these advances. LUNGevity seeks to make an immediate impact on quality of life and survivorship for everyone touched by the disease—while promoting health equity by addressing disparities throughout the care continuum. LUNGevity provides information and educational tools to empower patients and their caregivers, promote impactful public policy initiatives, and amplify the patient voice through research and engagement. The organization provides an active community for patients and survivors—and those who help them live better and longer lives.
Comprehensive resources include a medically vetted and patient-centric website, a toll-free HELPLine for support, the International Lung Cancer Survivorship Conference, and an easy-to-use Clinical Trial Finder, among other tools. All of these programs are to achieve our vision—a world where no one dies of lung cancer. LUNGevity Foundation is proud to be a four-star Charity Navigator organization.
About Lung Cancer in the US
About 1 in 16 Americans will be diagnosed with lung cancer in their lifetime.
More than 238,000 people in the US will be diagnosed with lung cancer this year.
About 60%-65% of all new lung cancer diagnoses are among people who have never smoked or are former smokers.
Lung cancer takes more lives in the United States than the next two deadliest cancers (colorectal and pancreatic) combined.
Only about 23% of all people diagnosed with lung cancer in the United States will survive 5 years or more, BUT if it is caught before it spreads, the chance of 5-year survival improves dramatically.
Please visit LUNGevity.org to learn more.