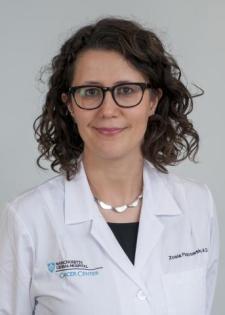 In recent years, biomarker testing has grown increasingly more important and more complex as researchers understand critical details about the molecular basis of lung cancer. By testing the genomic make-up of each individual's lung cancer, oncologists are better equipped to recommend treatment plans that are optimized for patient outcomes.
LUNGevity Foundation spoke to Zofia Piotrowska, MD, a clinical researcher and lung cancer medical oncologist at the Massachusetts General Hospital Cancer Center, to get an overview of biomarker testing and to learn about the future of biomarker testing in lung cancer patients.
 
What is biomarker testing?
Broadly speaking, biomarker testing refers to the various tests we do to try to understand lung cancer at as in-depth a level as possible to help physicians provide the best treatment plan possible. More specifically, a type of biomarker testing, sometimes called molecular or genetic testing, allows us to study the make-up of an individual's lung cancer DNA to try to identify key sensitivities within the tumor that can be effectively targeted.
 
When and why did biomarker testing start? 
In 2004, researchers were studying a new treatment approach called an EGFR inhibitor in a broad range of patients. During clinical trials, the researchers saw that most patients were not successfully treated with this drug; however, a subset of patients with lung cancer responded very well. The researchers focused on this subset of patients and set out to understand why they had such a strong benefit when treated with the EGFR inhibitors. The scientists then identified an EGFR mutation in this subset of patients and understood that this specific mutation caused key changes in the tumor cells that made them responsive to the EGFR inhibitor therapy.
EGFR was the first targeted therapy developed for the treatment of lung cancer. At that time, patients were tested only for an EGFR mutation to determine whether EGFR inhibitor therapy made sense. However, over time, more targeted therapies have been developed to target alterations in EGFR, ALK, ROS1, MET, KRAS BRAF, NTRK, RET and other genes known to be relevant to the development of lung cancer, often called driver oncogenes.
Today, broad testing of a patient's cancer is recommended in order to have a comprehensive understanding of the tumor and how best to treat it.  Such broad, multi-gene biomarker testing, usually done using a technology called next generation sequencing, or NGS, is becoming increasingly common and more accessible to patients.
How is biomarker testing done?  
There are typically two approaches to biomarker testing. The original, gold-standard approach for biomarker testing involves testing the cancer tissue itself. Often, this tissue can be taken from the patient's initial biopsy, though sometimes a repeat biopsy may need to be done to get the appropriate samples for biomarker testing. To evaluate the gene make-up of the cancer cells, the DNA is extracted from tumor cells and sequenced to identify mutations or other changes in key driver oncogenes. In addition, the tissue can be stained for the presence or absence of key proteins, such as PD-L1.
A new approach to biomarker testing only requires a simple blood test. This approach, called a liquid biopsy, looks for circulating tumor DNA, fragments of DNA in the blood that have been shed from tumor cells. The medical team can then sequence these fragments to identify key driver mutations. Notably, this approach does not allow us to study the levels of PD-L1 or other proteins in the tumor cells, but emerging data suggest that tissue and liquid biopsies may provide complementary information when done in parallel.
It's also important to note that not all tumors shed enough circulating tumor DNA to make liquid biopsy tests effective. So, I tell my patients that if we do a liquid biopsy test for biomarkers and we don't get results showing the presence of known driver mutations, that doesn't necessarily rule out the presence of those mutations. We may just have to look into getting a tissue-based biomarker test.
Who should get tested and when?  
Biomarker testing is most commonly done immediately after diagnosis to help the medical team develop the optimal treatment plan. In some situations, it may also be done if the patient's treatment plan is being re-evaluated, such as if a tumor starts growing after becoming resistant to the patient's current treatment.
A patient's cancer type can also help guide the need for biomarker testing. Biomarker testing is mostly done for patients diagnosed with non-small cell lung cancer (NSCLC). In particular, the testing for driver mutations is most commonly recommended for patients with adenocarcinoma and non-squamous lung cancer.
The stage of disease also impacts the need for biomarker testing. In the past, biomarker testing was exclusively for patients with metastatic NSCLC, but now there may be some opportunities to use targeted therapies in the neoadjuvant (pre-surgery) or adjuvant (post-operative) setting in patients with early-stage disease.
Because the medical community is working hard to improve outcomes for lung cancer patients, the guidelines for biomarker testing evolve often. So, patients should plan to talk to their physicians about the latest recommendations. Biomarker testing could be worth doing if the results could change the treatment plan.
How long does it take to get the results of biomarker testing? 
The turn-around time for these tests varies from one clinic to the next. Generally, the tissue-based tests take longer because of the processing time to schedule and conduct a biopsy or to find the existing tissue samples and then have them sent to the testing facility. Once the tissue samples arrive, the testing facility can begin their work. So, these results can take approximately 2-4 weeks.
Liquid biopsies only require a quick blood draw. Blood work can be scheduled quickly, and the samples can immediately be sent to the testing facility. Often these results only take about a week.
Should patients wait for the results of biomarker testing before beginning treatment?
This is an important point to discuss with your medical team. If the patient is medically stable and can wait to begin treatment, it's usually a good idea to get as much biomarker information as possible before beginning treatment. The biomarker test results will help the medical team develop a treatment plan that is specific to the patient's tumor, and it may also allow the patient to participate in clinical trials focused on their cancer type.
How can results inform treatment options?
The results help us to identify specific therapeutic vulnerabilities of a cancer that may impact how we treat cancers. For patients who are newly diagnosed with advanced NSCLC, biomarker testing is done to identify any gene rearrangement or mutation that could make the cancer more vulnerable to a specific type of therapy.
If we do find the tumor has a mutation or rearrangement that can be matched with an approved targeted therapy, that therapy will be included in the patient's treatment plan – often as the first-line treatment.
If the biomarker test results don't reveal a targeted therapy option, the PD-L1 test results can help guide a patient's immunotherapy treatment plan.
These biomarker test results can also help us avoid treatments that we know are likely to be less effective for certain patient populations.
Where will biomarker research take us in the future?
Over the past few years, we have seen the impact of investing in targeted therapy research. We are broadening the number of genes being testing, we are broadening the stages of disease we can treat with target therapies, and we are broadening the types of lung cancer we can treat. All this together means we are increasing the number of treatment options for lung cancer patients. I expect this type of work to continue, and I expect many new treatment options to emerge.
Researchers are also working to improve the sensitivity of biomarker testing. This will help make biomarker testing even more accurate and reduce the sample size required.
Currently, researchers quantify the amount of the PD-L1 biomarker protein in the tissue samples, to help guide immunotherapy decisions for lung cancer patients. The medical community continues to study PD-L1 and other biomarkers to improve the strategies used to predict patient outcomes when treated with immunotherapy.
What are challenges facing biomarker testing? 
We have recently seen the results of studies that show large racial disparities in biomarker testing. This is a big challenge that needs to be addressed. We know biomarker testing and targeted therapies are important for patient outcomes, so now we need to work to ensure that all people, regardless of financial situation, education level, or race, have access to biomarker testing. And then we need to make sure we follow through with these results to efficiently and effectively incorporate them into treatment plans.
How do non-profits, like LUNGevity, help us overcome these challenges? 
One way to improve access to biomarker testing is to educate patients and their caregivers. Education is a big piece that non-profits, like LUNGevity, really help with. Of course, medical providers should know what testing is required, but it also helps when patients and caregivers are informed about the importance of testing for as many biomarkers as possible.   
LUNGevity also works hard to unite key stakeholders, such as patients, regulatory agencies, insurers, medical teams, pharmaceutical companies, and many others, in the fight against lung cancer. This helps to pave the way for progress in the prevention, diagnosis, and treatment of this disease. When we all work together, we can more effectively improve outcomes for lung cancer patients and their families.  
Related Reading:
---

Juhi Kunde, MA, is a science writer for LUNGevity.